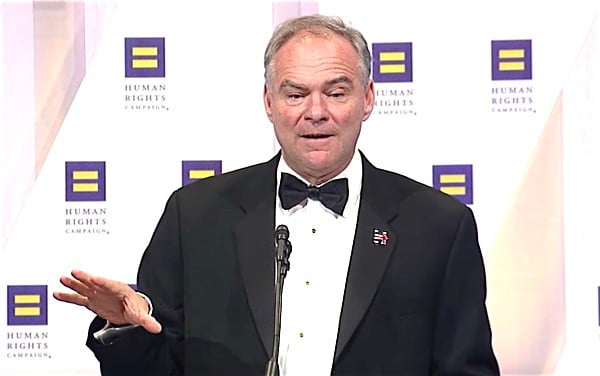 Democratic vice presidential nominee Tim Kaine delivered the keynote address at the Human Rights Campaign national dinner in Washington DC over the weekend, and much of his speech focused on his evolution on marriage equality with regard to his Catholic faith.
He said he expects the Catholic Church's position on the issue to evolve as well.
Upon his designation as the Democratic vice presidential nominee, Kaine's evolution on LGBT rights emerged in media reports. When running to become Virginia governor in 2006, Kaine said he didn't support adoption by gay couples, but reversed his position by 2011. Like Clinton, Kaine wasn't undeniably in support of marriage equality until 2013.
Despite his evolution, Kaine recalled during his speech, his first act after becoming governor of Virginia in 2007 was signing an executive order prohibiting discrimination against gay people employed by the state government. After signing a friend-of-the-court brief before the U.S. Supreme Court in favor of marriage equality, Kaine recalled "how happy" he was when the ruling came down in favor of nationwide marriage equality.
Kaine, who said he now has "full, complete, unconditional support" for marriage equality, said he knows his views are not in line with the Catholic Church's views on marriage, but said the time will come when the institution will change its view.
"I think that's going to change, too," Kaine said. "And I think that's going to change because my church also teaches me about a creator in the first chapter of Genesis, who surveyed the entire world, including mankind, and said, 'It is very good. It is very good.'"
Recalling the words of Pope Francis, who said "Who am I judge?" in response to a question about a gay priest, Kaine said he wants to add, "Who am I to challenge God for the beautiful diversity of the human family? I think we're supposed to celebrate it."
Watch Tim Kaine's full address: