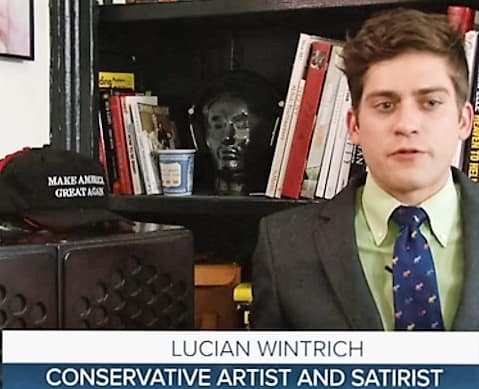 You may be familiar with Gays for Trump and Hunks For Hillary. But do you know gay conservative Lucian Wintrich and his controversial 'Twinks4Trump' project? Wintrich defends it in a new interview with NBC.
#twinks4trump is damaging, privileged, and shameful. Satire? No. Disrespectful to LGBT rights (that'll be taken away)? Yes.

— Brad Giovanine (@BradGiovanine) August 8, 2016
https://twitter.com/Twitteshia/status/761739126961876992
In July, Wintrich's photography (below) appeared at the Gays For Trump event at the Republican National Convention. That event was headlined by homocon and Breitbart writer Milo Yiannopoulos and anti-Islam 'activist' Pam Geller. Just prior to the event, Yiannopoulos was permanently banned from Twitter for harassing SNL and Ghostbusters star Leslie Jones with racist tweets.
https://twitter.com/gaywonk/status/755618862385729538
https://twitter.com/twinksfortrump/status/761633547094372353
In the NBC video, Wintrich, who says he comes from a liberal background, discusses political satire, liberals as "the new puritans" and (of course) being silenced by the media.
Wintrich argues that being offended by hate speech is offensive. He of course fails to address why "liberals" are offended in the first place. Agree with him or not, Wintrich is convincing on the public shaming aspect of social media.
#Twinks4Trump makes me sick to my stomach. How exclusive and privileged can it get #LGBT

— Marpheen Chann (@MarpheenChann) August 6, 2016
"Twinks4Trump combines stereotypes about young gay men and these deep stereotypes about young conservatives. And it kind of tosses them up a little bit. It's satire. I think that camp comedy, political satire, they're incredible tools for bridging that cultural divide and that gap and getting people to laugh while simultaneously getting them to think about things a little bit differently.
"The second you hear a dissenting voice and you say 'Oh well, this sounds conservative so you must be a racist, bigot neo-nazi you don't have any sort of conversation.
"To be gay and then conservative…you have to fight harder and research more and then read more than anybody else because you're going to be continuously challenged."
Watch the video below.
https://www.youtube.com/watch?v=8c5CxHYna0c