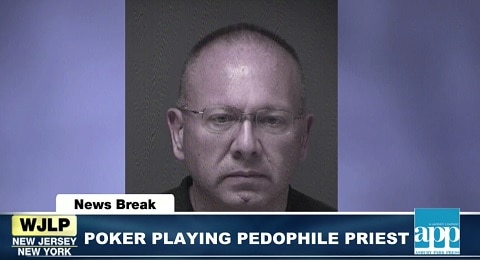 A Catholic priest in New Jersey has been removed from his ministry at Holy Spirit Church in Union following his arrest on charges of child pornography.
In July, 54-year-old Kevin A. Gugliotta was accused of possessing or viewing child pornography and disseminating photographs or video of child sex acts.
NJ.com reports that "he faces 40 counts of sexual abuse of children — 20 counts of possession of child pornography and 20 counts of dissemination of child pornography."
According to a statement from Wayne County District Attorney Janine Edwards, an investigation into Gugliotta's activities began in August after a detective received a report an image of child pornography was uploaded to a chat room from the former cleric's IP address.  "Several other reports," note the statement, "were received that numerous other images of child pornography were being uploaded from that same IP address."
Asbury Park Press reports that police were unable to find a device used to upload the images during a search on Gugliotta's home in late September. Wayne County detectives, along with detectives from the Union County Prosecutor's Office later interviewed the suspect. On October 20, Edwards approved criminal charges and Magisterial District Judge Bonnie Carney signed off on an arrest warrant.
In a statement, Jim Goodness, a communications director for the Archdiocese of Newark, said the Gugliotta was removed from ministry "the day we found out about the expected charges."
Goodness added:
"It is important to remember that the American system of justice assumes the presumption of innocence of the accused. This is a serious and difficult matter that must proceed, as required, through the court process of the state of Pennsylvania. As a result, the Archdiocese is not in a position to discuss the details of Father Gugliotta's situation at this time."
Watch a report on Gugliotta's arrest below.