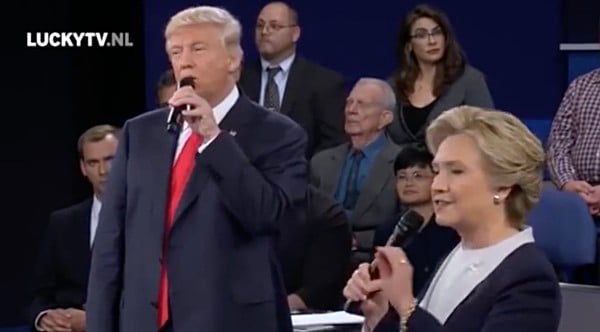 Yes, Monday night's debate was dirty, but it wasn't Dirty Dancing.
A meme hit the web once the debate ended that featured stills of Donald Trump and Hillary Clinton speaking into their mics at the same time, while people imagined they were singing duets together rather than arguing about ISIS, health care, or, in Trump's case, slinging petulant insults.
"Islands in the stream…"
"…that is what we are." pic.twitter.com/JrnCjfsdlV

— brandonstosuy (@brandonstosuy) October 10, 2016
I'm too good to you
I'm way too good to you
You take my love for granted
I just don't understand it pic.twitter.com/iZkWcHXHMO

— Desus Nice (@desusnice) October 10, 2016
This picture is hilarious if you imagine them singing "Baby, It's Cold Outside" pic.twitter.com/QZPEs6uVC8

— Bobby C (@bobbycords) October 10, 2016
One contained the lyrics for "Time of My Life", the song recorded by Bill Medley and Jennifer Warnes and used in the film Dirty Dancing.
"Now I've…had…the time of my liiife…" #debate https://t.co/5YWnm3UUmV

— Ryan McGee (@TVMcGee) October 10, 2016
And someone at LuckyTV took that meme and ran with it, to the benefit of all of us.
If only the debate wasn't so dirty.
Nobody puts Hillary in a corner.
Watch:
https://www.youtube.com/watch?v=jB2zoidUeLU