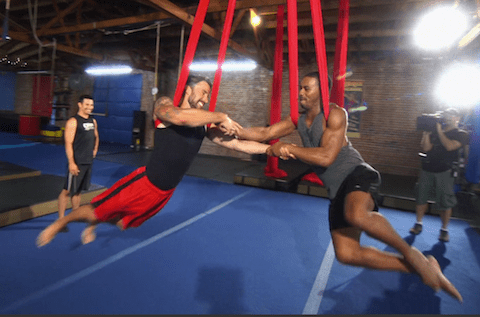 We're back after no new episode of Finding Prince Charming last week. I'm assuming it's because Logo execs assumed all the gays would be busy hate-watching The Rocky Horror Picture Show remake (which I sort of liked, thus revoking any right I have to critique television — sorry!). But we're back now, and it's down to these final four Express mannequins come to life looking for love.
Last night we got to meet Robert's "family," a term I use very loosely because he was clearly 3-D printed in some sort of Westworld-esque gay future fantasy. West Hollywood World, if you will.
So, which guy got the Sepulveda Family seal of approval? Find out in our recap, below!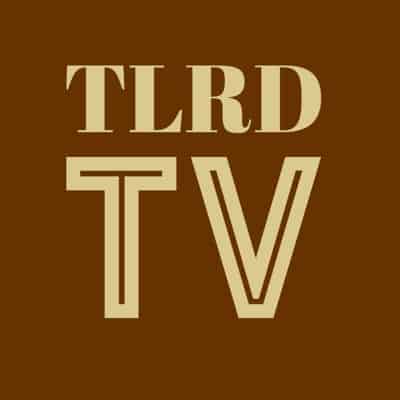 The episode starts with the remaining suitors discussing Chad's dramatic exit. On the one hand, it's the most relaxed and likable any of these guys have appeared so far. They're joking and acting like actual human people would interact. But on the other hand, when they're all in the same room, you really can't help but notice the teeny, tiny IKEA platform twin beds they're forced to sleep on. I wonder if that was the producers' way of keeping the guys from hooking up (and also why Chad had to cruise Eric in the kitchen way back when).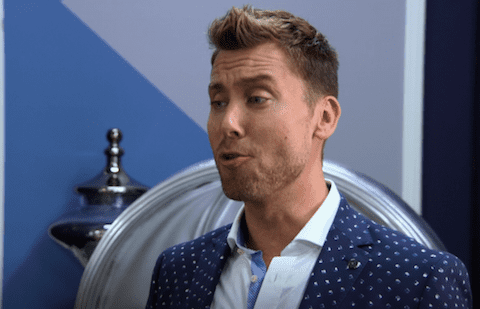 The show takes a dark turn when one of those scary clowns you keep reading about in the news shows up in the house. Oh wait, that's just Lance Bass in a heinous all-over-print blazer. He tells the guys they have a group date with some of the most important people in Robert's life. Omigosh, who could it be? His SoulCycle instructor? His colorist (y'all that salt-and-pepper is a little too perfect)? His horse, Black Beauty?
Quick! Everyone get dressed. Dillon, grab that hideous light denim jacket!
Turns out, the most important people in Robert's life are his family. You know, the only thing he's talked about this entire series.
The boys show up, and, because this is a gay dating show, it's brunch. The guys are going to get a chance to chat up Robert's mother, father and his sister, Jennifer. Mom and Dad don't do much more than smile politely and nervously eat croissants, but his sister is a different story. Her mere presence inspires such fear in the boys, they can barely keep it together. She's like Fairuza Balk in The Craft meets Regina George in Mean Girls, and I think I love her.
The guys make their best cases for why they're the best match for Robert, which basically boil down to two things: he's hot, and, um, he … has a family? Any time I wonder if there's more to Robert than what's made the final edit, scenes like this really put my mind at ease. Justin tries to tell Mr. and Mrs. Sepulveda that he and Robert have a lot in common, because, well, they both have a mother, a father and a sister. Soul mates! Dillon says he and Robert both come from diverse families, whatever that means. (Whether he's saying because both of their families are non-white or that their families themselves are diverse somehow, it's just a weird thing to really harp on in this context.) Eric is more direct, just discussing how hot Robert is with his sister-witch.
Jennifer sits Robert down and gives him her first impression. She's not impressed with Brandon, whom she thinks is "just happy." What is it with this family that just despises joy, humor and happiness? She thinks Justin might try to be cuter than Robert, which is a problem. She can't get a good read on Eric, whose name she refuses to even remember, and Dillon is her favorite. She wants to see how the guys interact with Robert. Because what's sexier than going on a date with your sister?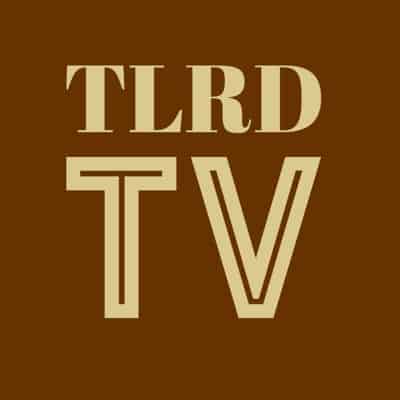 Brandon and Dillon excel in this setting, but the other two, ho boy. Jennifer immediately cuts Justin down by telling him that she sees Justin as more of a friend. She said that to his face. In front of Robert. It is extremely awkward. This leads to Justin saying "friend-zoned" about 100 times during the rest of the episode. (Friend-zoned is the new canary.) To be fair, she's probably right. Justin has a bit too much personality and good humor for Robert, and, since his weird speech about Eric being his best friend, I've suspected Justin actually has more romantic feelings toward his bestie than our Prince.
Speaking of Eric, things don't go great for him. He tells Jennifer that he thought Robert was so hot before he even knew he was the Prince. Well, hold on to your hair product, Eric, because you just walked into one of Jennifer's mind-traps. She asks him if it turned out he wasn't the Prince, would Eric have pursued him instead? Eric struggles with this, and I can see why. What is the right answer here? Would it be best if his attraction to Robert was so strong and so pure that they fell in love, rules of the game be damned? Or, as Eric claims, is it best to be respectful of the situation and focus on the Prince regardless? The whole interaction felt like that scene in Mean Girls where Regina George tricks Cady into admitting she thinks she's really pretty. Poor Eric just doesn't have the wits of a pre-breakdown LiLo to make it out of that unscathed.
Then Robert's mom screams about loving her gay deaf son and everyone cries and … oh, wait, that was The Family Stone. Another terrible scene wherein a family torments a Dermot Mulroney-looking guy's potential mate. My mistake.
Anyway, they herd the guys out of there so the family can debrief. Mom thinks Eric is "sweet" and has a lot of "honesty in him," which is damning with such faint praise, it's almost a read. Dad says dating Justin would be like "two bulls in the same stall" which is exactly the kind of thing that gets a lot of closeted congressmen into trouble, I think. Brandon and Dillon end up the faves and earn the solo dates.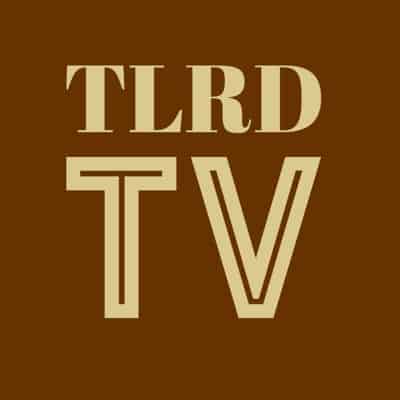 First up is Dillon's date, and it's another nonsense workout date. This time it's a circus workout, NOT TO BE CONFUSED with the acrobatic yoga (or, as I like to call it, acro-yo) they inexplicably did at some horse stables a few weeks ago. Doesn't anyone just like jog anymore? They roll on big bouncy balls, swing on a trapeze and spin on aerial silks. It's so, so boring to watch. Dillon, to his credit, is pretty good at all the exercises, so, if this whole reality star thing doesn't pan out, he's got a future in Cirque Du So-Gay somewhere.
Robert's so impressed with Dillon's work that he says if the world was ending, he'd want Dillon by his side? Dude, it's aerial silks, not The Walking Dead. Let's maybe hold-off before we go packing his and his bug out bags. Also, Dillon pronounces especially like "ekspecially" which would be a nightmare to spend the apocalypse with anyway.
Back at the house, Dillon makes their date sound like it was a tantric workshop. Maybe they just didn't show us all the ways the guys rubbed their sweaty bodies together the way Dillon describes, but I didn't find it "ekspecially" sexy, personally.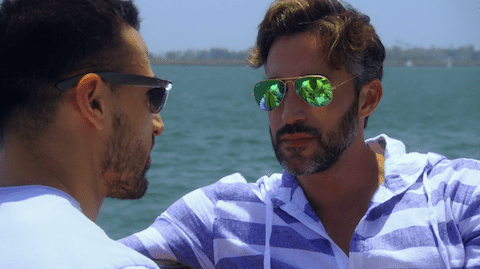 Brandon's date is a lot less ridiculous, and, actually romantic. Robert takes him out on a boat. Not to anywhere in particular, just a boat ride, apparently in circles. It allows the guys to just sit and talk. They cuddle and kiss a lot, and it makes Dillon's date look absolutely miserable by comparison. Robert even gives Brandon a stupid nickname ("little Toot") which is exactly the sort of super annoying thing a real, basic gay couple would do. It's the first time it's felt like there was any real chemistry on this show at all.
Meanwhile, Eric and Justin sit home and wait for the cameras to leave so they can makeout talk about how sad they are to not have a solo date before the black tie affair.
Justin was right to worry. At the affair, he's the first boy called up and immediately given the chop. It's hard for me, personally, because I've grown to like Justin these last few weeks. However, he looks so much like Frankie Grande that I can't help but enjoy watching him suffer.
That leaves Eric, Dillon and Brandon left. If I were taking this seriously, I'd say Brandon is in the lead (and if he isn't picked, I wouldn't be mad to see him as the Prince next season). Eric has got all the personality of an unlined index card, but damn if I don't look longingly at his chest hair every time it makes an appearance. (I don't apologize for my thirst.) And, Dillon, well, he's got a bad case of the twenty-sixies, if you know what I mean. Maybe he needs to mature a bit, or maybe he's just so steeped in the "not here to make friends" reality-TV culture that he can't help being so desperate to win the game, regardless of the prize. (And the less said about the entire plotline devoted to Dillon's one gray hair this episode, the better. Get a grip, gurl.)
Next week we're off to Palm Springs, because this show does not have budget for airfare, hennies.
What did you think of this week's episode?