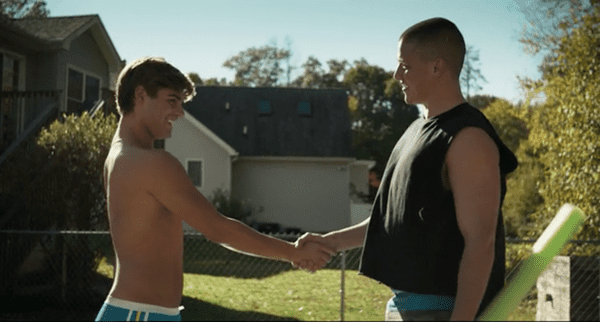 A new clip has just been released from King Cobra, the James Franco-produced movie about the rise of gay adult film star Brent Corrigan and the murder of Cobra Video producer Bryan Kocis.
For those who haven't been following along with our coverage, here's a synopsis on the film:
Sean Lockhart (Garrett Clayton), seventeen and boyishly handsome, dreams of fame and success even though he's broke and without direction. When he meets the seemingly conservative Stephen (Christian Slater), founder of Cobra Video, he starts to perform in gay porn under the moniker "Brent Corrigan," creating a slew of wildly successful videos during which he blossoms from a naïve young man into a confident sex symbol. When rival porn producers Joe (James Franco), a former youth pastor with a bad temper, and Harlow (Keegan Allen), a former military man, set their sights on stealing Sean from Stephen, an all-out porn turf war ensues, resulting in a shocking, gruesome murder in this bizarre, stranger than fiction true story.
The new clip released today shows Clayton encounter one of Slater's sweet and unsuspecting suburban neighbors who wonders about all the young boys she sees coming and going from Slater's house.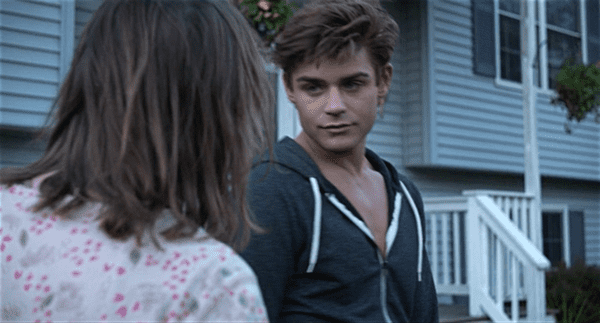 We also see Clayton hitting it off with a fellow adult performer right before they shoot a scene together.
If Clayton's outfit looks at all familiar in that scene, that's because you were teased with it during production.
King Cobra opens in theaters and digital platforms Friday, October 21st.
Watch the new clip, below.