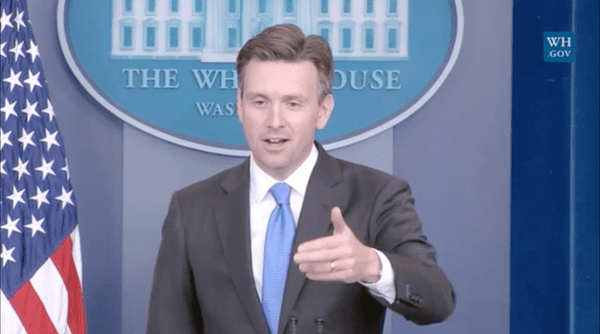 White House Press Secretary Josh Earnest blasted a move by House Republicans to enable anti-LGBT discrimination under the guise of 'religious freedom' as "ridiculous."
The fight brewing stems from the 2017 Defense Authorization Spending Bill and an amendment that would exempt "religiously affiliated federal contractors" from complying with President Obama's 2014 executive order that banned federal contractors from discrimination against LGBT people.
Earnest said that the amendment is "absolutely one of the reasons" the president might veto the spending bill. However, Earnest would not say that the provision would trigger an automatic veto, only that it could.
"And the prospect that Republicans would hold hostage funding for our national security unless the president makes it easier for companies to discriminate against gay people is ridiculous, but unfortunately consistent with the pattern of behavior we've seen from Republicans in Congress over the past several years," Earnest added. "So, the president does feel strongly about this, but I'm not prepared to single out specific provisions."
The Washington Post has more on the provision in the House defense spending bill that would enable anti-LGBT discrimination:
The dispute started in April, when the House Armed Services Committee adopted an amendment from Rep. Steve Russell (R-Okla.) exempting religious organizations with government contracts from federal civil rights law and the Americans with Disabilities Act. The amendment would effectively override President Obama's 2014 executive order prohibiting federal contractors from discriminating against LGBT workers. Democrats also worry it could allow for discrimination against women, based on their reproductive health choices.
The provision was never part of the Senate bill. But the House GOP appears to be digging in over the amendment, just the latest stage in a half-year effort to make sure it becomes law.
Earlier this year, House GOP leaders muzzled an effort to excise the Russell amendment from that chamber's version of the defense bill. House Democrats later led a successful effort to include language banning federal contractors from discriminating against LGBT individuals in a bill to fund energy and water programs, but the victory was short-lived because that bill failed to pass the House.
Watch video of the press conference, below.