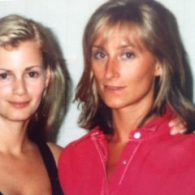 MORE ACCUSATIONS. A woman has come forward saying Trump paraded models in front of men and looked up their skirts—and Sonja Morgan was reportedly present: "It was the most offensive scene I've ever been a part of."
THE JONAS MEMBER. Joe is talking about his private parts, man crushes, and Nick Jonas' nipples during a Reddit AMA.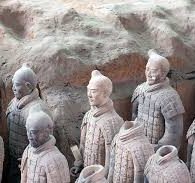 ARCHAEOLOGY. China's famous terra-cotta army may have been influenced or created by ancient Greek artisans: "The startling claim is based on two key pieces of evidence: European DNA discovered at sites in China's Xinjiang province from the time of the First Emperor in the Third Century BC and the sudden appearance of life-sized statues."
THE HELP HELPED. Jon Hamm opens up about his experience with therapy and going to rehab: "…there's something to be said for pulling yourself out of the grind for a period of time and concentrating on re-calibrating the system."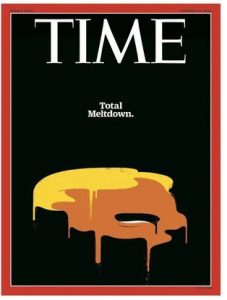 STATE OF THE RACE. TIME Magazine cover sums it up. 
COME AT ME, BRO. The New York Times responds to letter from Trump threatening lawsuit if they don't retract story that alleges Trump groped two women:  "Nothing in our article has had the slightest effect on the reputation that Mr. Trump, through his own words and actions, has already created for himself."
EVANGELICALS. Liberty University students blast Jerry Falwell Jr. for sticking by Trump: ""Donald Trump does not represent our values and we want nothing to do with him," the statement read, in part. "He has made his name by maligning others and bragging about his sins. Not only is Donald Trump a bad candidate for president, he is actively promoting the very things that we as Christians ought to oppose."
never thought i'd shout out loud "SLAYYYYY" while reading a letter from the @nytimes legal department, but here we are https://t.co/ajEctYqtz9

— Melissa Hunter (@himelissahunter) October 13, 2016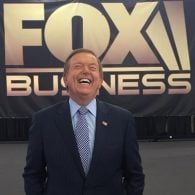 LOU DOBBS. Fox News anchor (and former CNN anchor) retweets the personal contact info for one of Trump's accusers then apologizes: "In the original tweet, Dobbs, a staunch Trump supporter, linked to a post from a conservative news site that alleged Jessica Leeds was connected to the Clinton Foundation.
The site published Leeds's address and phone number via public records and claimed her phone number matched that of the Clinton Foundation. That claim was quickly debunked. Dobbs also quoted a tweet from a supporter of Trump that included Leeds's address and phone number. That tweet has since been deleted. Dobbs has nearly 800,000 followers."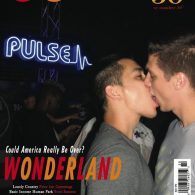 XY MAGAZINE. The famous gay rag is back! "Known for its steamy photos and poignant cultural commentary, XY catered to young gay men for 12 years before ceasing publication in 2008, another victim of the global financial crisis. But XY's editor, Peter Ian Cummings, said he was determined to not let his magazine fade into obscurity. This month, the quarterly publication returns to newsstands with its original spirit ― and sizzle ― intact."
ALT RIGHT. Swastikas at Trump rallies are a thing, in case you didn't know.
"It is, at times, just getting downright scary." – @Acosta on swastika sign left on media table after Trump speech today. pic.twitter.com/8YiY2Lvniu

— JM Rieger (@RiegerReport) October 13, 2016
NEW YORK/NEW JERSEY BOMBING. Suspect makes his first appearance in court: "Ahmad Khan Rahimi, 28, a U.S. citizen who was born in Afghanistan, lay in a medical bed, his arms covered with a blanket and his head propped up with a pillow, as Judge Regina Caulfield read the state charges against him. He answered "yes" — his voice barely audible in the courtroom — as Caulfield asked him whether he understood that he had legal representation and that his bail had been set at $5.2 million."
SPOILERS! Evan Peters returns to American Horror Story and things get steamy!
https://twitter.com/ltsEvanPeters/status/786389284190171136?ref_src=twsrc%5Etfw
THURSDAY THIRST. Blake Sciortino.
https://www.instagram.com/p/BJywJssjCAE/
https://www.instagram.com/p/BGm21LCtSga/
https://www.instagram.com/p/BBNt5uONSpJ/
https://www.instagram.com/p/BJHAjTljd8i/