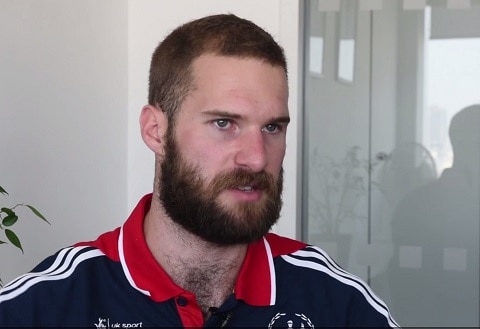 Former Olympic canoeist Matt Lister is speaking out about homophobia in sports.
Lister told The Evening Standard, "Lots of people brand me as a gay athlete, but to me I was just an athlete that was gay."
Lister, now an LGBT ambassador for the British Athletes Commission and working with UK gay rights organization Stonewall as a school role model, also said that there is a "hooligan-kind of atmosphere" within certain sports.
"From the actual athletes in the sport, I don't think there's that much of an issue with the athletes because everyone respects each other…
"As an athlete you're already in a really high stress environment – the reason I came out really was because I always felt like I had this little niggling voice in the back of my head like 'you're not quite being honest with yourself'."
Lister made his remarks at the same time that a new study on LGBT people in sports was released by Stonewall. The report shows that "football fans are the most likely to hear homophobic abuse, with 72 per cent of fans hearing it while watching live sports in the past five years."
According to The Evening Standard, the study found 18- to 24-year olds are twice as likely to say they would be embarrassed if their favorite sports star came out as gay.
However, it also found 60 percent of young people believe openly LGBT sports stars can have a positive impact and 63 percent stated they would like more sports players to come out.
I'm so humbled to have been given this opportunity to work with @stonewalluk on #RainbowLaces …please RT… #LoveWins https://t.co/P2R0kZ6AzB

— Matthew James Lister (@MrMattLister) September 25, 2016
Stonewall's Juliet Chard said:
"We looked at online experiences as well as live sports, as well as sports in the pub, and people watching sports with friends or family. And we found that young people are more exposed to homophobia online.
"Recent coverage at the Olympics showed that there's not just a problem with sports fans when it comes to homophobia – we also saw some of the coverage and commentary, which indicated intolerance and people feeling uncomfortable with LGBT people on television.
"So that's something that we also want to challenge and make people more aware of as part of our work in sport."
Chard was referring to a BBC tennis commentator saying that he did not want to see two men kissing.
Lister added it would be helpful if more sports players came out "to show it's really not a big deal – it's just something that you are."
Watch Lister and Chard discuss the report below.