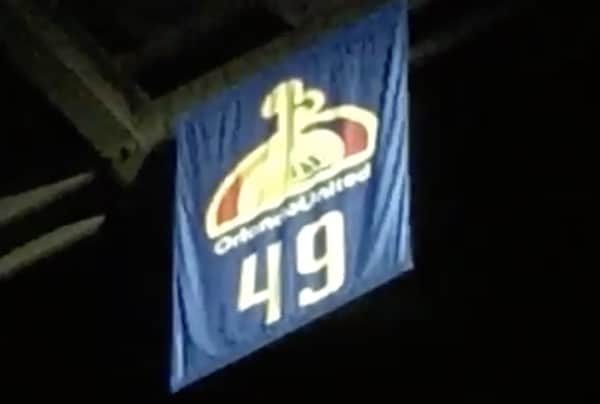 The Orlando Magic unveiled a tribute to the 49 victims of the Pulse nightclub massacre on the franchise's opening night. A permanent banner reading "Orlando United 49" and emblazoned on the back with the names of each victim will hang in Amway Center, CNN reports:
"On June 12, 2016, our world changed forever. Forty-nine of our family, friends and neighbors were taken from us too soon, with more than 50 others injured in a horrific tragedy at Pulse," said the NBA team's announcer, Paul Porter….
"Tonight, we honored their lives, the heroes who emerged early that morning and a healing community that showed the world that love always conquers hate."
Watch:
Our Opening Night is dedicated to the Pulse victims. Please join us in a moment of silence. #OrlandoUnited https://t.co/Ta0g2TUXqO

— Orlando Magic (@OrlandoMagic) October 26, 2016
This was not a one-night commitment for the Magic, who have contributed both money and staff resources to the ongoing healing process and plan to continue. In addition to the banner, the team aired a video in tribute and invited singer Brandon Parsons — who composed a song called "Forty-Nine Times" — to perform pregame.
Parsons' song included this phrase: "Takes more than just a gun, more than you to tear us down, so let your colors fly free."