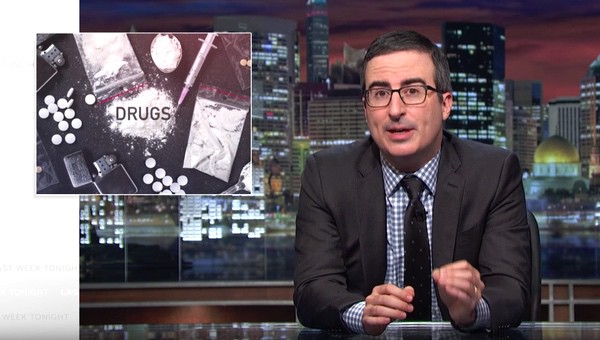 John Oliver comes for the pharmaceutical industry and its over-prescription and marketing of opioid painkillers like Oxycontin, Vicodin, and Percocet. The drugs quickly lead users to heroin because it's cheaper and readily available.
In 2015, Oliver estimated, more than 2.6 million Americans were addicted to opioids.
"These pills are getting used or falling into the hands of others – from those who are already addicted to just bored teenagers."
He adds:
"A nuanced discussion between the medical community about the complexities of brain treatment is clearly important. [The] problem is: that discussion became dominated by the pharmaceutical industry, who started amplifying the message that opioids should not just be used for acute pain — from that of cancer or surgery — but all sorts of pain, like arthritis and backaches."
Oliver specifically hones in on the pharmaceutical giant Purdue, which markets oxycontin.
One of Purdue's doctors in charge of marketing the drug, said that the problem with the perception that people are addicted is that it's just "relief seeking behavior mistaken as drug addiction."
Remarks Oliver:
"Wow, that is so convenient. That is like Chipotle going, 'Have you heard of this fascinating new thing called pseudo-diarrhea? It looks a lot like diarrhea but it's not diarrhea and the cure may actually be more tacos."
Opioids remain the most effective way to treat certain types of pain and alternatives are hard to come by, especially in many rural areas of the country. "Alternative pain treatments should be at least as easy to find as Waffle Houses, which, like heroin, are both hazardous to your health and dangerously addictive," according to Oliver.
Watch: