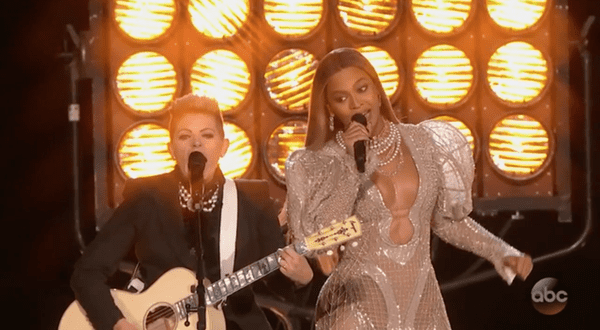 Beyoncé made a surprise performance at the 50th annual Country Music Awards (CMAs) on Wednesday night, performing her track "Daddy Lessons" with The Dixie Chicks.
From her visual album Lemonade, "Daddy Lessons" caught the Chicks' attention shortly after it was released. The band unexpectedly performed the song at a concert earlier this year in May.
After news that Beyoncé would be appearing at the CMAs leaked on Wednesday, some insisted they would boycott the CMAs over Queen Bee's presence. After Bey took the CMA stage Wednesday night, others took to social media to share their racist thoughts about why Beyoncé should not be performing at the very white award show.
In a string of tweets, many claimed Beyoncé's blackness should have been cause for her to be barred from playing the CMAs (which, a quick glance around will tell you, is overwhelmingly white.)
Many of these tweets followed the incredibly obvious, "Does this mean (insert white country star) can play at (insert mostly black awards show)?"
These social media posts echoed racist conversations about whether "Daddy Lessons" was really a country song in the first place.
Though as the Post notes, at least one person on Twitter pointed out the extreme irony of racists attacking Beyoncé for showing up on country's biggest night.
Beyonce came to remind country where it got its sound. Half this crowd looks like they weren't ready to like it. Or to dance.

— Mikki Kendall (@Karnythia) November 3, 2016
Strangely, the CMAs did not include any images or videos of Bey's performance on their official Instagram account. 
Watch Beyoncé and The Dixie Chicks perform, below. And download their collab here.
https://www.youtube.com/watch?v=f1NNoWW52Zw