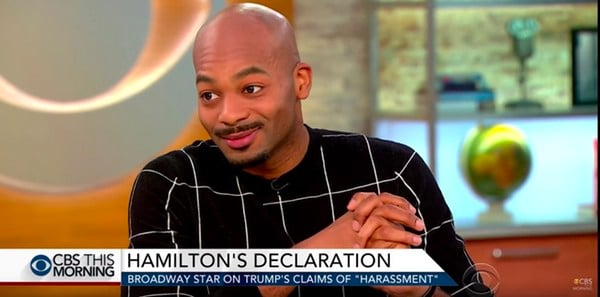 Hamilton cast member Brandon V Dixon, who delivered the message to VP-Elect Mike Pence which made headlines over the weekend urging Pence to respect the rights of all Americans, sat down with CBS This Morning to talk about how it came about, what happened, and the reactions.
Norah O'Donnell asked Dixon why the cast did it. Said Dixon:
"The producers, the creatives, and the cast…all, we recognize that 'Hamilton' is an inherently American story told by a definition of the American community. We are men, women of different colors, creeds and orientations. You know, the resonant nature of the show throughout the world, throughout the global community, demands that we make statements when there are important issues facing us as a community. So we wanted to stand up and spread a message of love and of unity considering all the emotional outpour since the election."
"Conversation is not harassment," added Dixon.
"For me, I think the most important thing…with respect to all the emotions everyone is feeling after this election is to make sure that people recognize we are not alone. We are here together. And we need to listen to one and other and speak with one and other, and maybe those of us who feel their voice has been marginalized or might become marginalized ― it's important that they recognize that there are allies all over the place."
Said Charlie Rose, referencing Trump's demands for an apology: "We assume that an apology is forthcoming."
"There is nothing to apologize for," said Dixon.
A Hamilton performance in Chicago over the weekend was disrupted by a protester. Gayle King asked Dixon whether he was concerned that the Hamilton message to Pence set a precedent for show disruptions.
Said Dixon:
"That is certainly not the first time nor will it be the last that somebody went into a theater and began to act inappropriately or stand up and disrupt a show."
Watch: