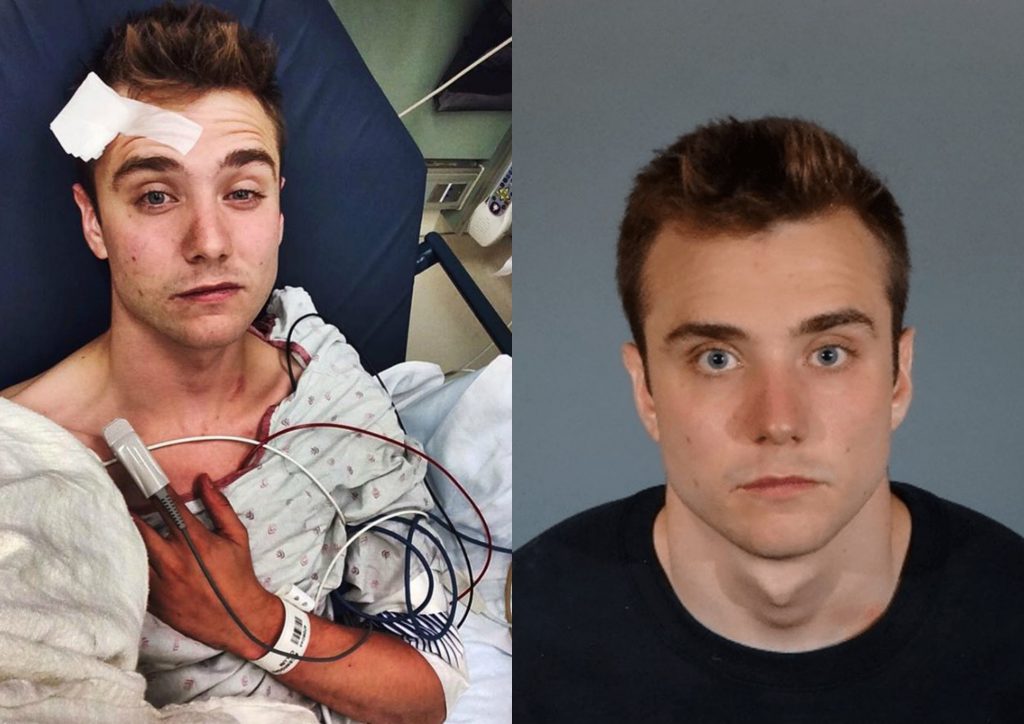 Gay vlogger Calum McSwiggan pled guilty to felony vandalism on Tuesday in a case brought against him that stems from an incident back in June.
As you'll recall, McSwiggan claimed he was the victim of an anti-gay hate crime that happened outside popular West Hollywood gay nightclub The Abbey. McSwiggan posted a selfie the day after the alleged altercation showing himself in a hospital bed and in seemingly rough shape. He wrote at the time, "With three broken teeth and six stitches in my forehead, I've never felt so terrified to be a gay man in the public eye."
However, police denied that McSwiggan had been the victim of a bias-motivated attack and said many of McSwiggan's injuries were self-inflicted and sustained while he was in custody. Police also said that when they encountered McSwiggan they found he had vandalized a car he claimed belonged to his alleged assailants. Police were unable, however, to find evidence that McSwiggan was attacked.
Subsequently, McSwiggan was with filing a false report and vandalism.
Calum McSwiggan — a London resident known by thousands of fans for his YouTube channel on lesbian, gay, bisexual and transgender issues — previously pled not guilty to a June 29 charge that he filed a false report when he told sheriff's deputies he had been beaten two days before, according to the Los Angeles County District Attorney's Office.
But prosecutors say McSwiggan, 26, actually damaged the mirror and bumper of a car before falsely claiming he was beaten by the vehicle's owner and two other men, with whom he had engaged in an altercation outside The Abbey. He was sentenced to three years felony probation and 52 anger management counseling sessions and ordered to pay $7,000 in restitution, authorities said.
McSwiggan continues to insist that he did not fabricate a hate crime and that the vehicle he damaged belonged to a man he says attacked him.
Wrote McSwiggan on Twitter,
"Five months ago I was accused of the crime of falsifying a police report after I was assaulted outside a nightclub – a crime I didn't commit. After five months of investigation this charge has finally been dropped. I never lied and I'm grateful that the world can now see that. After the assault I made the mistake of damaging the culprit's car. I regret this & have accepted the consequences & paid for the damages.Now I'm headed home to the UK to see my friends and get on with my life. I'm so grateful to all of you for your continued support"
After five months of investigation this charge has finally been dropped. I never lied and I'm grateful that the world can now see that.

— Calum McSwiggan (@CalumMcSwiggan) November 8, 2016
After the assault I made the mistake of damaging the culprit's car. I regret this & have accepted the consequences & paid for the damages.

— Calum McSwiggan (@CalumMcSwiggan) November 8, 2016
Now I'm headed home to the UK to see my friends and get on with my life. I'm so grateful to all of you for your continued support 👍🏼 x

— Calum McSwiggan (@CalumMcSwiggan) November 8, 2016