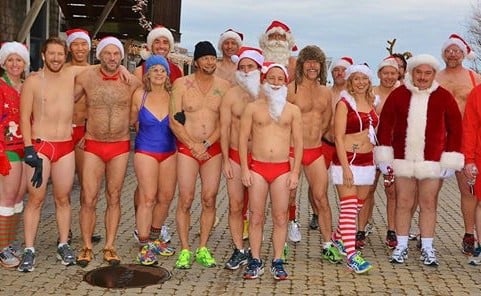 Right about now you and someone you know probably need a weekend away.
Provincetown, the premier LGBT destination is here for you. Holly Folly and beyond.  It's your town: social and respectful, sexy and rejuvenating, creative and staunch, secluded and easy to find. With every season you can count on stunning natural beauty, accommodations for any budget and travel style, great food, nightlife options, and a unique history that makes it even more relevant and uniquely essential today. Plan a weekend!
Provincetown at the holidays is decorated to the hilt – lobster trap Christmas trees, bells on bikes, porches draped in lights, drag queens festooned in ribbons. If you haven't been, there's no better place to kick off the holiday season than under the Pilgrim Monument, which is lit up for the holidays like a sparkling, 250-foot tree.
Provincetown's Holly Folly 2016 is a three-day weekend festival of shopping, music, entertainment, clubbing, and holiday cheer from December 2-4 that will get you in the spirit of what wrapping up the year is supposed to be for: friends, family, togetherness, celebration, generosity, and joy.
https://www.instagram.com/p/–K9_cCTdn/?tagged=hollyfolly
If you've never seen this quaint town in the off-season, it's a great time to experience a different side of this naturally stunning, sexy and creative LGBTQ+ destination that has been inspiring, serving, and rejuvenating members of our communities for generations. And it's still an excellent weekend getaway. Book a room now!
Here are just a few things that are in store for you at this year's Holly Folly:
Chowder, Gift Baskets, and Dolly Parton
Provincetown's main drag Commercial Street is packed with boutiques, specialty shops, and award-winning restaurants that open their doors.
The Holly Folly Shop Hop is an annual event taking place over all three days which features a Great Things Come in Provincetown Baskets raffle. Save all your receipts from shopping, dining, and cocktails in town and bring them to Holly Folly headquarters. The more you shop in town, the better your chances to win one of five incredible prize baskets. Plus, you get all your Christmas shopping done on top of it!
New this year is a special Dolly Folly in which you can enter to win signed Dolly Parton memorabilia in a silent auction and watch Dolly's Christmas of Many Colors: Circle of Love.
Musical Angels We Have Heard on High
Provincetown icon Billy Hough will be leading a Holly Folly Sing-a-Long at the Gifford House Porchside Bar on Friday and Saturday where he'll be tuning up his lively show with some holiday favorites.
The Boston Gay Men's Chorus fills Town Hall with holiday cheer on Saturday night in a concert that has become a special tradition. This will get you in the spirit. One show only, and then head over to the Crown & Anchor for the Post Concert Chorus Party with DJ Tom Yaz at the Wave bar and Bobby Wetherbee at the Central House Piano Bar.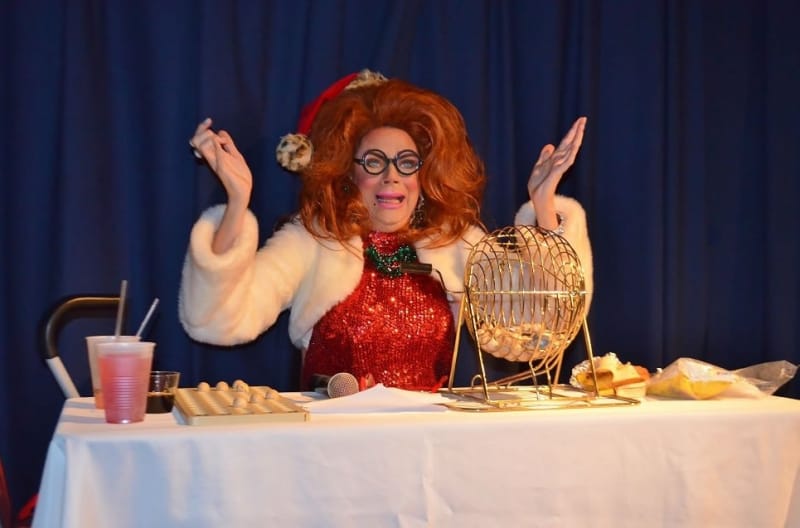 Bingo and a Ballsy Revue: Drag with a Holiday Twist
The Paramount at the Crown and Anchor is kicking off the weekend on Friday night with a 'Tis the Season Holiday Revue of Ptown's finest drag performers in a benefit for the AIDS Support Group of Cape Cod, hosted by Barbie Que and Anita Cocktail and featuring Billie Jean and Tisch DeWilliams.
On Saturday afternoon, head back to the Crown & Anchor for Holly Folly Drag Bingo, with Mistress of Holiday Bingo Tiki Bronstein. Get your bingo daubers out in a benefit for the Provincetown Business Guild.
https://www.instagram.com/p/_IF4grSFgh/?tagged=hollyfolly
Beats and Leather
Club Purgatory at the Gifford House is hosting a Retro Dance Party on Friday night. And they'll be open on Saturday night again with today's hottest music. Club Purgatory finishes off the weekend on Sunday with a Leather Dance Party.
Santas in Speedos
On Saturday, get in your bathing suit or your Speedo (holiday colors preferred) for the annual Jingle Bell Run and Champagne brunch. The run is as much fun to watch as it is to participate in and starts at Fanizzi's restaurant in the East End and ends at the Crown & Anchor. The champagne brunch at the finish line is a hearty breakfast of scrambled eggs, french toast, bacon, potatoes, coffee, tea and all the trimmings.
https://www.instagram.com/p/-6riIvLEnD/?tagged=hollyfolly
Gingerbread Contests and Cookies with all the Trimmings
On Saturday, there's an annual Gingerbread House decorating competition for all you exterior designers and sugar addicts. Teams get a prebuilt house, and an icing and piping bag to work with. It's BYOC (bring your own candy) and the winner gets a $150 gift basket. Houses are used as centerpieces at the David Asher Senior Dinner.
Don't miss Gregg's Cookie Party on Sunday from 5-8 at the Porchside Bar at the Gifford House which has become a legendary local tradition that includes complimentary cookies and sweets, a roaring fireplace, fabulous decorations, and a cash bar.
https://www.instagram.com/p/wSfe9wxEgX/?tagged=hollyfolly
Stroll Right Inn Open Houses
On Saturday afternoon, don't miss the Holly Folly Inn Stroll, which is a moving party with past participants including many of Ptown's finest inns including Anchor Inn Beach House, Seaglass Inn & Spa, Roux Inn, Sung Cottage, Gifford House, Somerset House, Masthead Resort, Sage Inn & Lounge, Queen Vic Guesthouse, Carpe Diem Guesthouse, Waterford Inn, Watership Inn and the White Wind Inn open their doors and serve up holiday cheer. It's a great chance to see where you might want to stay next summer!  Check back soon for this years stroll locations and map!
What Your World Needs Now…is Warm Soup And Drag Brunch
On Saturday
from
11am – 4pm
enjoy Souper
Saturday
at Tin Pan Alley, 290 Commercial Street. Warm your soul with a selection of delicious hot soup from local restaurants for $5 a bowl. Proceeds benefit SKIP (Soup Kitchen in Provincetown) feeding nurturing meals to people in need in our community.
And on 
Sunday,
roll out of bed, slip on your best bed-jacket and head over to the Drag Pajama Brunch at Bayside Betsy's from
10am to 1pm.
Holly Folly's Headquarters is the epicenter of all this activity and it's located across from Town Hall at Tin Pan Alley.
And there are more events to be announced. Check out the growing schedule here, and make your holiday plans!