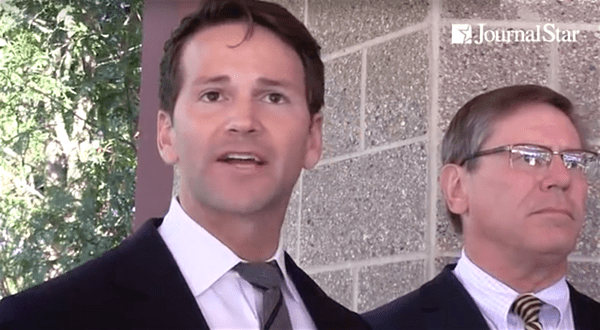 Disgraced former Illinois congressman Aaron Schock complained in a press conference this week about being "poked, prodded, and probed" by the FBI during its 19 month investigation into Schock's criminal corruption.
Schock's troubles began when it came to light that his congressional office was styled in the manner of Downton Abbey and that he illegally accepted design services for free. Schock, who has long been rumored to be gay and has a history of anti-gay views, resigned from congress in 2015. 
Earlier this week, Schock was officially indicted by a grand jury. 
Schock maintains his innocence and says that the investigation into his wrongdoing was politically motivated. He also tabbed Hillary Clinton in his response to the indictment, saying, "Unlike some politicians I didn't delete my emails."
The 52-page indictment accuses the once-rising Republican star, Aaron Schock, of brazen efforts to make money, such as buying World Series tickets with campaign funds and reselling them at a profit. When Schock risked missing a connecting flight for a European vacation, the indictment alleges, he paid a private aircraft company more than $8,000 out of his campaign account to fly him from Peoria to Washington.
Schock spent $40,000 in government funds to redecorate his Washington office, including $5,000 on a chandelier, and asked the House to reimburse him for nearly $30,000 worth of camera equipment, prosecutors allege. The indictment says he ran up a $140,000 mileage tab over six years, reimbursements for 150,000 more miles than his vehicles actually traveled.
The 35-year-old Republican from Peoria is charged in the 24-count indictment with nine counts of wire fraud, five of falsification of election commission filings, six of filing false federal income tax returns, two of making false statements and one each of mail fraud and theft of government funds. A conviction on just one count of wire fraud alone carries a maximum 20 year prison sentence. His arraignment is set for Nov. 21.
Watch Schock make his remarks, below.