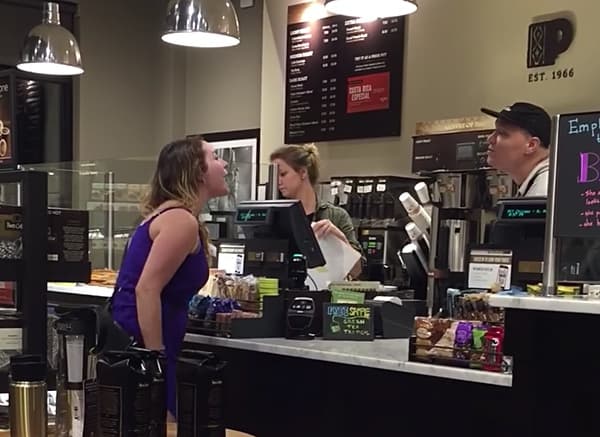 A shrieking Trump voter who launched an obscene racist rant at a Michael's check-out counter the night before Thanksgiving, claiming she was the victim of anti-white discrimination, was caught on camera in a homophobic rant at a Peet's coffee shop in Chicago's gay 'Boystown' neighborhood.
The individual, who has been identified as Jennifer Boyle, went viral this week after she attacked black employees at a check-out counter in Chicago, screaming "And I voted for Trump, so there. And look who won. And look who won. And look who won."
Video has since emerged of Boyle having another unpleasant encounter with workers at Peet's Coffee.
In the new video, Boyle reacts to having been called a "bitch" by the manager.
"You're the bitch. You are a bitch. You are literally the bitch. Oh my god, you're a floor manager," she shrieks, swiveling her hip in an effeminate manner. "Really? You're a floor manager and you call people bitches? You're a bitch."
Boyle then claims she feared for her life and plans to call the corporate office to report it before she further belittles and threatens the manager:
"I will call your corporate office – Bobby – calling me a bitch. Oh, don't worry. You think because you're in Boystown you're safe? I don't think so. It's on. Corporate's not in Boystown. You think cause you're in Boystown you're safe? This isn't your town. It's Chicago and you're not gonna call women bitches. Because you wanna know what? I can stereotype you, and call you something. Cause yeah that's right. I'm gonna go back to my $90,000 a year job while you sit back here."
Watch:
https://www.youtube.com/watch?v=UERvMHsI5-Q