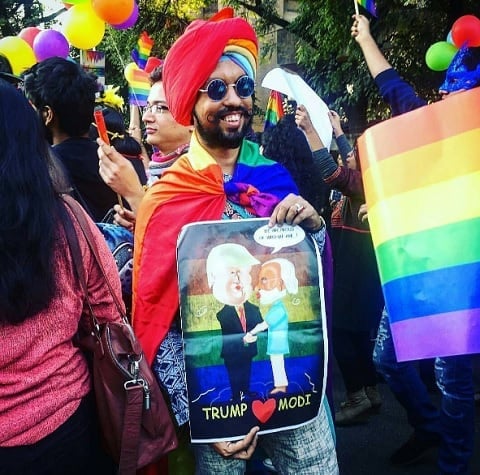 Hundreds of LGBT rights activists marched in New Delhi, India last weekend demanding the repeal of a law criminalizing gay sex.
In 2009, the New Delhi High Court declared a section of the penal code banning gay sex as unconstitutional. However, that judgement was overturned in 2013 when the Supreme Court ruled that amending or repealing the law should be left to Parliament, not the judiciary. The law provides for prison sentences of up to 10 years.
https://twitter.com/FreeportIL/status/803478117012553728
NBC reports:
"There has been a lot of change, and we have gone back also," said Saurav Jain, a 33-year-old architect who attended the parade.
Rituparna Borah, an activist, was not very hopeful, saying that the Hindu nationalist government of Prime Minister Narendra Modi was not supportive of gay rights. "We have yet to have an inclusive society," she said.
Over the past decade, gays and lesbians have gained a degree of acceptance in India, especially in big cities. Many bars have gay nights, and some high-profile Bollywood films have dealt with gay issues.
Still, being gay is seen as shameful in most of the country, and many gays and lesbians remain closeted.
https://twitter.com/hashNewDelhi/status/803286282847875073
It was announced in February that India's Supreme Court planned to reconsider the issue. According to the Times of India, "about three-quarters of Indians disapprove of homosexuality and are deeply traditional about other issues of sexuality such as sex outside of marriage."
Watch a report below.
(Image via Instagram)