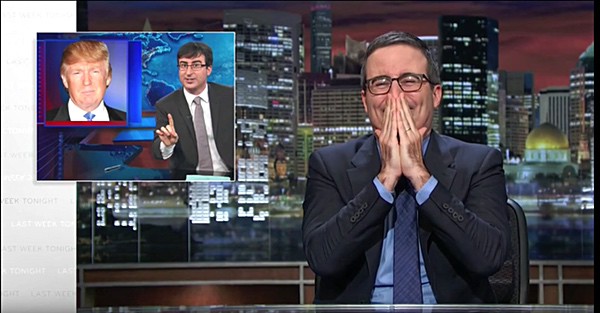 John Oliver looked at the final days of the presidential election on Last Week Tonight while Hillary Clinton was rapping about flying children and the human equivalent of a plastic bag of cheeseburgers and Confederate belt buckles (Donald Trump)  spent time trying to restrain himself.
And the emails. Oliver took note of Kellyanne Conway's efforts to minimize FBI Director James Comey's letter exonerating Clinton over the emails for the second time.
But finally, Oliver brought up a video we posted last week noting that three years ago he hosted The Daily Show and begged Donald Trump to run for president.
He also noted that he proclaimed, around the same time, that the Cubs would never win the World Series.
And that, he said, is why you need to get out and vote tomorrow.
"No outcome is certain. So if you are thinking that you don't have to show up and vote on Tuesday because there is no way the impossible could happen, take it from somebody who has learned from painful experience – you are wrong about that."
Watch:
https://www.youtube.com/watch?v=nsmbbk12m-E
https://www.youtube.com/watch?v=XndcZgxxXPs