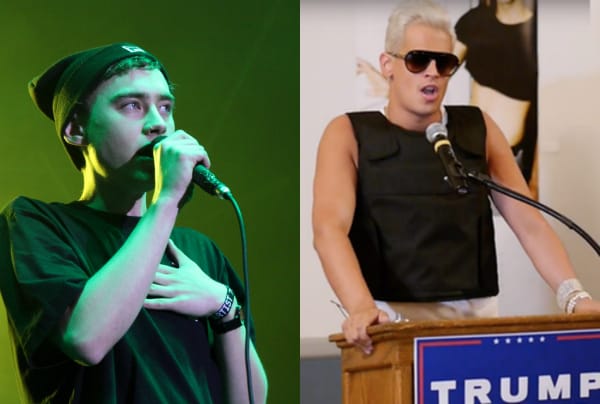 Years & Years frontman Olly Alexander ripped British newspaper The Evening Standard for a piece it did on white supremacist homocon Milo Yiannopoulos.
The article, published in print on Friday and online on Saturday, aimed to tell readers "everything you need to know about Donald Trump's alt-right poster boy" and help you distinguish "the man from the myth."
Yiannopoulos of course has a history of making sexist, transphobic, Islamophobic, and racist remarks, both online and in person.
He was behind a demented anti-Islam 'Gays for Trump' rally held this past summer at the RNC and was banned from Twitter after inciting a racist attack on Leslie Jones.
Alexander shared a photo of the Evening Standard's article on Twitter and criticized the paper for how it covered the controversy-baiter.
Said Alexander, "you spoke to milo's supporters and colleagues but not to any of the people he has targeted and abused ?"
Alexander highlighted a portion from the Standard's profile that seemed particularly fawning:
"Ultimately, Yiannopoulos resists definition, preferring to tease and provoke. And despite all this, in private, he seduces. "He's well-connected, good at making introductions and can be incredibly charming and helpful," offers another acquaintances. I once attended a birthday party of his, held at a bar in Old Street, where he arrived on a throne; Rivlin remembers he was "carried by four topless hunks". "He's like a combination of Eddie Monsoon from Ab Fab and Nigel Farage, with better hair," he adds. A journalist who once worked in an office with him confirmed, "he always got the rounds in at the pub".
https://twitter.com/alexander_olly/status/802249210263433216?ref_src=twsrc%5Etfw
The Evening Standard's piece only includes a comment from one person who was on the receiving end of Yiannopoulos' attacks.
The article did however include this excerpt:
[Yiannopoulos] is contemptuous of women and minorities, he once shared a Twitter poll inviting followers to answer the question, "which would you rather your child had: feminism or cancer?". As a gay man he is scathing of certain elements of UK gay culture, surprising and offending many in the community. Is being homosexual wrong, he has asked. "Something somewhere inside of me says yes." Critics point to this as an example of pathological self-hatred.
Out Magazine recently came under fire for a profile it ran on the hate-monger, which was largely seen as downplaying Yiannopoulos' bigotry.
[h/t Attitude]