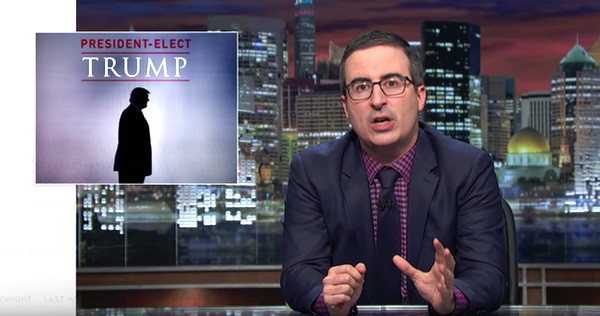 John Oliver is as sad, angry, and in disbelief as you are at what has happened as a result of last week's election, which he aptly calls "I thought I wanted it to be over but now that it's over I wish that it was still going on because it turns out the ending is even worse twenty-fucking sixteen."
As we've heard in bits and pieces over the weekend and for the weeks, preceding it, Donald Trump's plans for his tenure are like "reading the to-do list on Satan's refrigerator. Which of course Satan no longer needs now that hell has frozen over."
The repeal of Obamacare is just one of those plans:
"Get ready for a barely changed version of Obamacare called Trumpcare, which sounds like a health care plan we doctors feel your breasts for lumps, whether you ask them to or not. But wait, don't get complacent that he's going to keep those aspects of Obamacare. He might change his mind on that again. Trump is like a Magic 8 Ball: every time you shake him, he gives you a different answer. And sometimes the answer is just 'big league,' or 'that's some body on my daughter, right?'"
And then just when you think you might get one good night's sleep, you then bolt up in bed realizing, "Oh shit, the Supreme Court."
"Many people are happy to see him in office. Some are voters who think he'll bring jobs back and shake up Washington. Others are happy simply because he isn't Hillary Clinton. And others, of course, are Vladimir Putin and Scott Baio. But for the rest of us, we are faced with the same questions as a guy who woke up the day after a Vegas bachelor party, deep in the desert, naked, tied to a cactus and a dead clown. Namely, how the f— did we get here, and what the f— do we do now?"
First, how did we get here? Oliver points out "how a system that is supposed to catch a serial liar failed" because the general public has become less reliant on facts, more gullible to conspiracy theories, and willing to accept suppression of the press, which Trump probably plans to do more of through the use of libel laws.
So what do we do now?
Oliver warns against normalizing Trump
"Optimism is nice, if you can swing it. But you've got to be careful, because it can feed into the normalization of Donald Trump. Because he is not normal. He is abnormal. He's a human, 'what is wrong with this picture?' He sticks out like a sore thumb, and frankly he even looks like a sore thumb. So giving him a chance in the sense of not speaking out immediately against the policies he's proposed is dangerous. Because some of them are alarming."
Oliver warns that listening to news anchors who are telling the public that we must give Trump a chance to govern is "like we're on a plane, and we just found out our pilot is a wombat" but we give the creature a chance to fly it despite the odds of a disaster.
He adds:
"Things will not be okay. And yes the sun will rise each day, but the continuing rotation of the Earth should not be your baseline expectation of American society. And I just need to ask you one more thing: It is going to be too easy for things to start feeling normal, especially if you are not someone who is directly impacted by his actions. So keep reminding yourself: This is not normal. Write it on a Post-It note, and stick it on your refrigerator. Hire a skywriter once a month. Tattoo it on your ass. Because a Klan-backed, misogynist internet troll is going to be delivering the next State of the Union address. And that is not normal, it is f—ed up."
So we must fight it:
"We need to stay here and fight. For the last eight years, we've had a president we could assume would generally stand up for the rights of all Americans. But that is going to change now. So we're going to have to actively stand up for one another. And it can't just be sounding off on the internet or sharing think pieces or videos like this one that echo around your bubble. I'm talking about actual sacrifice to support people who are now under threat."
Watch: