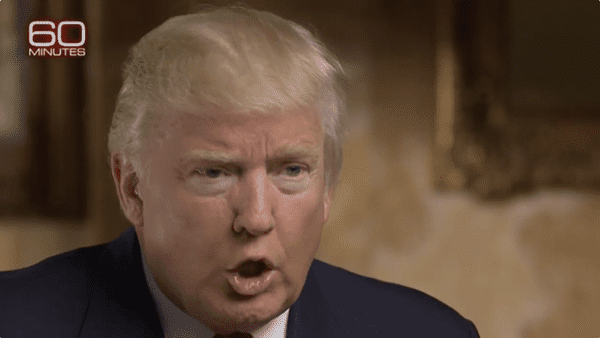 In his first interview since winning the 2016 election, Donald Trump spoke with CBS' 60 Minutes about gay marriage.
Asked by Lesley Stahl whether he supports marriage equality, Trump reportedly said, "It–It's irrelevant because it was already settled. It's law. It was settled in the Supreme Court. I mean it's done."
Stahl tried to counter with a question about a potential SCOTUS justice that Trump might appoint, a justice who could down the road be instrumental in overturning the Court's ruling on marriage equality. But Trump was again dismissive: "It's done. It–you have–these cases have gone to the Supreme Court. They've been styled. And-I'm–I'm fine with that."
Trump on gay marriage to 60 Mins: "These cases have gone to the Supreme Court. They've been settled. And- I'm– I'm fine with that."

— Maggie Haberman (@maggieNYT) November 13, 2016
After telling 60 Minutes he wants to overturn Roe v Wade and send it back to the states he says this about gay marriage pic.twitter.com/LUsVuFWJ7z

— Sam Stein (@samstein) November 13, 2016
Trump's comments come on the heels of his naming anti-LGBT RNC chair Reince Priebus as White House chief of staff.
Not a good sign for #LGBT people Priebus chosen as chief of staff. Signals Trump in line with @GOP and will push anti-LGBT platform.

— Chris Johnson (@chrisjohnson82) November 13, 2016
On Sunday, Trump also named virulently anti-LGBT former editor of Breitbart News Stephen Bannon as his senior counselor and chief strategist.
Oh, hell! White supremacist, anti gay, anti Semite, vindictive, scary-ass dude named Senior Strategist. After vomiting, be afraid, America. https://t.co/cZvP3vccjS

— Ana Navarro-Cárdenas (@ananavarro) November 13, 2016
Bannon was caught on tape in 2011 using an anti-gay slur. 
UPDATE. Here's the video.
https://www.youtube.com/watch?v=tAgxfQbl2KU