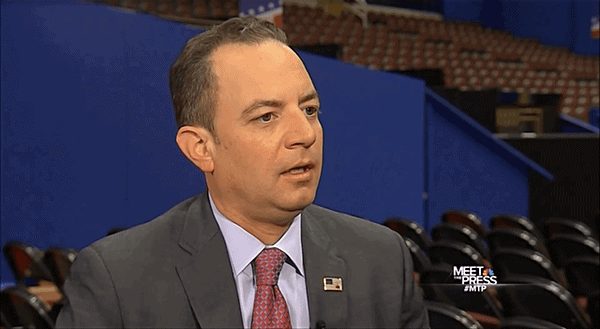 President-elect Donald Trump has officially selected RNC chair Reince Priebus as his White House Chief of Staff.
Just in: @Reince for chief of staff, but Bannon gets higher billing as chief strategist & senior counselor pic.twitter.com/yIprS9Yyff

— Todd J. Gillman (@toddgillman) November 13, 2016
Priebus presided over the RNC as it adopted the most anti-LGBT platform in American history.
In choosing Priebus, 44, Trump has tapped a Washington insider who is viewed as broadly acceptable by vast swaths of the Republican Party. Priebus was recommended by House Speaker Paul Ryan (R-Wis.) and will be a bridge between the White House and the Republican-led Congress, as well as the heads of cabinet agencies.
The choice signals Trump's willingness to work within the very establishment he assailed on the campaign trail. Priebus, a lawyer and longtime Wisconsin political operative, has been head of the RNC since 2011 and is well liked within Washington after years of forging ties with Republican leaders and lawmakers. He will undoubtedly start to smooth over residual friction from a campaign during which a number of Republicans refused to endorse Trump, reversed their endorsements or stepped away fro him after a 2005 tape surfaced in which Trump is heard saying that he could force himself on women because he was a "star."
As we've reported, Priebus has a history of being hostile to the LGBT community. He has refused to engage with the now-defunct gay GOP group GOProud for fear of angering anti-gay hate monger Tony Perkins, defended the RNC's opposition to same-sex marriage in the wake of the Supreme Court's marriage equality ruling, lied about the GOP platform endorsing conversion therapy (he says it doesn't; it does), and said that "the best scenario for kids" is having opposite sex parents.
As The Daily Beast has pointed out, that's not exactly what the facts say:
If anything, the scholarly consensus is that children can fare just as well in same-sex households. "The consensus is overwhelming that those children do very well in those [same-sex parent] families, and there's no harm or bad consequence that occurs because of those parents not being opposite sex," said Ellen Perrin, a professor at the Tufts University School of Medicine who has researched this question.
Watch Priebus lie to Chuck Todd about the GOP platform, below.
WATCH: RNC Chair @Reince Priebus denies anti-LGBTQ extent of party's platform #RNCinCLE https://t.co/8fykXoBLbH pic.twitter.com/sAUDEdu0Hz

— Human Rights Campaign (@HRC) July 20, 2016