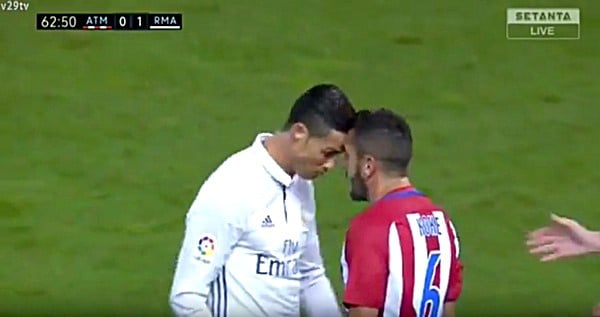 Cristiano Ronaldo butted heads with Atletico Madrid midfielder Koke during Real Madrid's 3-0 win on Sunday after Koke allegedly called Ronaldo a "faggot."
Television viewers even claimed that the Bernabeu icon threw a punch at the Atleti acein the incident.
And, according to Cadena Cope, the fuse was lit when Koke called Ronaldo a 'faggot'.
To which the three-time Ballon d'Or winner allegedly replied: "A faggot, yes. But a rich one, bastard."
The Spanish radio station claims to have heard the conversation Ronaldo, 31, had with team-mates in the visitor's changing room after the game.
Other outlets translated the response as 'A faggot with a lot of money, you bastard'.'
Watch:
https://youtu.be/k4paQbJPeoA
Ronaldo was taunted by fans last April after rumors about an alleged relationship with Moroccan kickboxer Badr Hadri.
Morocco World News reported, "the crowd were heard chanting 'Vete a Marruecos,' or 'Go to Morocco,' in reference to the player's regular visits to Morocco."
Ronaldo was also targeted with chants of "maricon", a Spanish anti-gay slur comparable to "faggot."