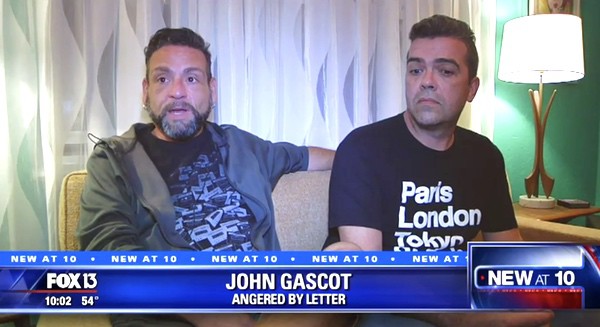 A gay St. Petersburg, Florida couple received a hateful anonymous letter from a Trump supporter they believe lives in their neighborhood.
John Gascot, who received the letter, posted it to Facebook, writing:
"So this came to us in the mail today, so any of you who want to post that a rise in hate post-election is just us whiny liberals making shit up…think twice before spreading such dangerous ignorance. Peoples lives and their safety are being affected, whether or not you like it or want to admit it.
Looks like it's time to get some extra and BIGGER rainbow flags. I might decide to just paint the f**king garage door in rainbow colors.
Me thinks I might need to write a Huffpost piece on this and make it go viral. Piece of sh*t coward.
Feel free to share.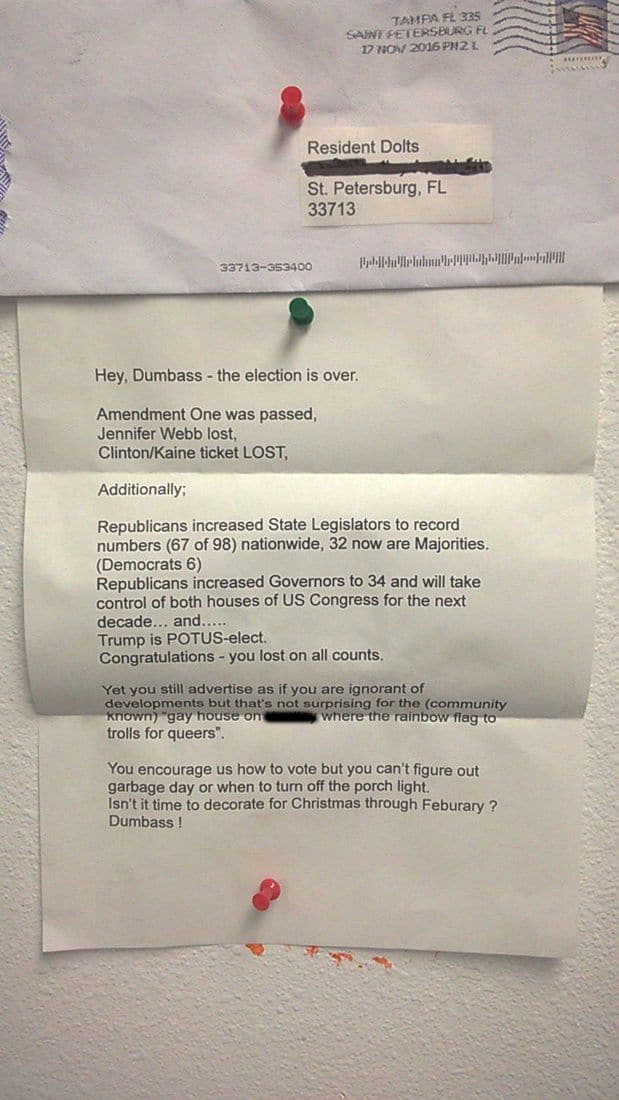 The letter attacked them for having a Clinton-Kaine sign in their front yard, and for flying a rainbow flag, FOX 13 reports:
The first line of the letter read, "Hey, Dumbass – the election is over."
It went on to detail how Republican legislators swept most of the state elections and Hillary Clinton's defeat to President-elect Donald Trump.
At the time, the couple still had their "Clinton-Kaine" campaign poster standing in the front yard.
"I was just like, you know, they can sit there for a little bit. It's my lawn," said Gascot.
The anonymous letter continued, "You still advertise as if you are ignorant of developments, but that's not surprising for the community known 'gay house.'"
The couple proudly flies a rainbow flag beside their garage door.
"That was the more upsetting part," said Gascot. "Clearly it's not just about the election. You're a bigot for other reasons, and you're targeting us. You're using the election to target us."
Specific details in the letter led the couple to believe it came from one of their neighbors:
The last paragraph read, "You encourage us how to vote, but you can't figure out garbage day or when to turn off the porch light. Isn't it time to decorate for Christmas through February? Dumbass!"
…They said they've gotten support from so many people online after posting the letter that they plan to hold a gathering at their home to show the sender they are not alone.
"We're going to just make sure that we're vigilant for each other and let people know, this is not okay in our neighborhood, It's not welcome," said Gascot.
Watch:
Gascot's Facebook post: