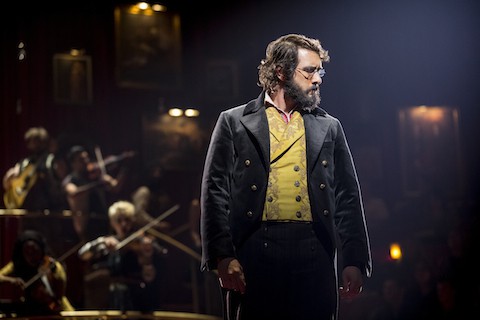 Generally, a show needs to begin for an audience to feel transported. But just stepping into the transformed Imperial Theatre, where Natasha, Pierre & the Great Comet of 1812 opened on Broadway last night, feels like a decadent escape in itself. If you couldn't use one of those right now, you're probably on the wrong site.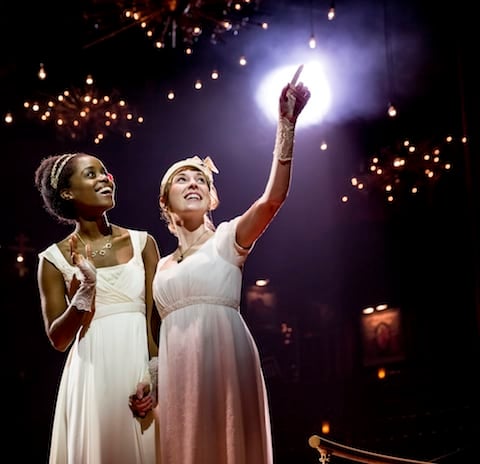 So, where are we? Imagine a cross between a grand opera house, a vibrant burlesque club, and a raucous Russian tearoom. When the show was first produced off-Broadway in 2012 and 2013, at Ars Nova and then a pop-up tent in Manhattan, audiences were seated dinner-party style; the action unfolded all around as supper was served and vodka flowed.
The same immersive atmosphere pervades the Imperial thanks to Mimi Lien's design, which has audiences seated at the back of the stage and at tables surrounding the center pit, while the company darts over walkways and up and down the aisles.
If you're daunted by Russian literature — or the family tree in the playbill — don't worry: Dave Malloy's musical is based on one, easily digestible plotline from Tolstoy's War and Peace.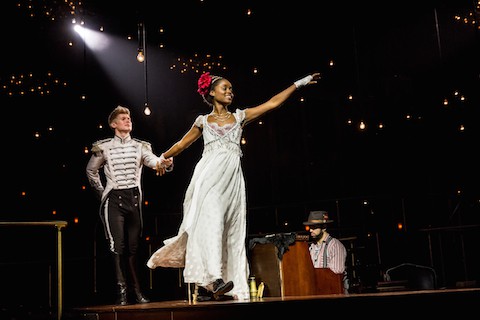 In a nutshell: A young ingénue named Natasha (Denée Benton, splendid in her Broadway debut) gets caught in a love triangle, between the guy she promised herself to, who's off fighting the Napoleonic Wars, and Anatole, the hottest guy in Moscow (a blond and steely Lucas Steele), who sets his sights on bedding her.
Meanwhile, Natasha's family friend Pierre (a honey-voiced Josh Groban) is busy struggling to find meaning in his life and pretending he's not in love with Natasha himself. He's also unhappily married to the wanton Hélène (a fiery Amber Gray), who happens to be Anatole's sister.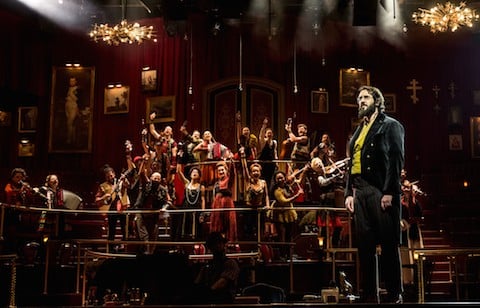 It's all deliciously soapy, and Malloy's sung-through treatment injects vibrancy, energy, and wry humor into the (only somewhat) sordid tale. Alternately wild, seductive, and beautifully operatic, Malloy's score is as broad and varied as the sentiments expressed in Tolstoy's prose.
Isolating one simple thread from the plot allows Malloy to explore complexity in the music rather than getting bogged down in storytelling. Early songs make playful sport of spelling out exposition, winking at Russian lit's reputation for being overly complex, while making the story quite clear.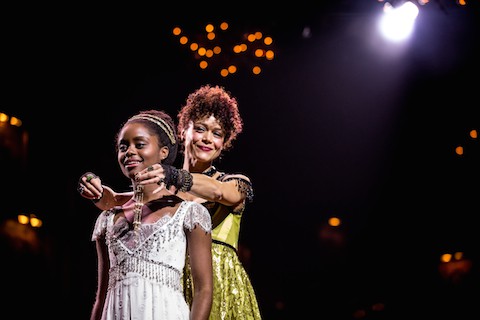 Director Rachel Chavkin makes fluid use of the fractured playing space, moving the sizable misfit ensemble nimbly around seated patrons, an effort to recreate the show's grittier, immersive theatre roots. Bradley King's flashy lighting design of bare bulbs, starburst chandeliers, and at times blinding spotlights is both stunning and effective, while Paloma Young's costumes mix steam punk-inspired designs with more conventional period garb.
While the story feels somewhat incomplete in the end, there's enough emotion and intrigue here to satisfy most appetites for drama (all of War & Peace in one sitting would be too much for even the most hardcore binge-watcher).
Benton and Groban's knockout performances make the case for jumping in and losing yourself in a handful of chapters of one of the greatest stories ever told. And who can say no to that?
Follow Naveen Kumar on Twitter: @Mr_NaveenKumar (photos: chad batka)