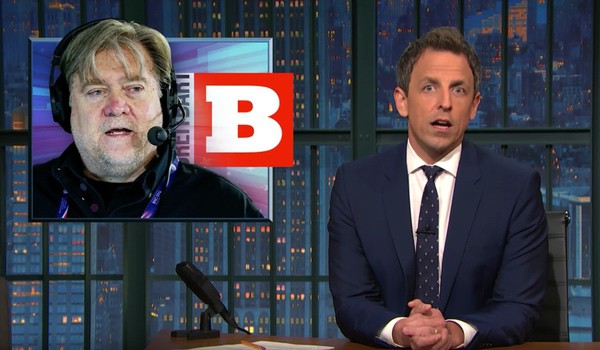 Seth Meyers has gathered himself and is ready to take on the Trump White House, started with Trump's most recent appointments, Reince Priebus as Chief of Staff and racist, homophobic, misogynist anti-Semite, admitted white nationalist,  Breitbart executive chairman Stephen Bannon as chief strategist.
Meyers notes that Bernie Sanders and Glenn Beck both think this is terrifying:
"You know the world has gone insane when Glenn Beck and Bernie Sanders are on the same page."
And that page would be from a book called "We're all F#@!ed."
Meyers then moves on to Trump's other closer advisers, his children, and looks at the recent 60 Minutes interview with the family that Ivanka used to hawk a bracelet from her jewelry line:
"Did you hear that, disenfranchised white working-class voters? For only $11,000 you can make your wrist great again!"
Finally, Meyers looks at Trump's backpedaling on his promises, such as the wall between the US and Mexico.
"Apparently those promises are a little more flexible than Trump made them out to be….A campaign device, or in layman's terms, a f***ing lie. Hey, honey, now that we're married I'm not going to give you a beautiful house and the three children after all. That was an engagement device."
Watch:
https://www.youtube.com/watch?v=j23Ozig4T_s