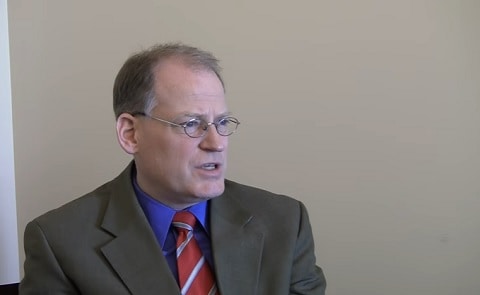 A former Utah lawmaker under consideration for a position as a state judge has apologized for his past support of anti-LGBT bills.
Rep. Kraig Powell (above) told the Utah Senate Judicial Confirmation Committee on Monday that he is not anti-gay and was in fact trying to help in the aftermath of court rulings on same-sex marriage.
According toFox13, earlier this year Powell ran a pair of bills dealing with same-sex couples following the SCOTUS ruling on marriage equality. While a bill which aimed to make Utah marriage law gender neutral received praise, another was less well received because it suggested giving heterosexual couples preference over same-sex couples in adoptions. Neither bill passed the legislature.
In 2014, Powell filed a bill in the Utah legislature which suggested rewriting the law to refer to same-sex marriages as "pairages."
Of his track record, Powell said:
"I do understand the concerns expressed by the LGBTQ community over this issue and I'm truly sorry for the offense I caused. I'm sorry that some of my statements about that provision were the source of such pain. I regret having made those statements."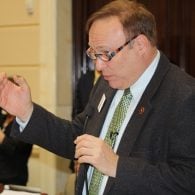 Although Senator Jim Dabakis (right), the only openly gay lawmaker in the state, praised Powell for trying to make marriage law gender neutral he said the adoption bill "would have done great damage to LGBT couples."
Chase Thomas of Alliance for a Better Utah said:
"Although we appreciate the apology Rep. Powell expressed during his hearing today, we are still concerned about the implications of his confirmation as a judge. Rep. Powell may have backtracked on his stated desire to explicitly discriminate against LGBT parents who were trying to adopt, but his legislation as actually proposed still allowed for judges to act upon implicit biases they may hold toward LGBT persons."
However, Heber City councilwoman Kelleen Potter offered support for Powell "open minded and willing to listen to all sides of an argument."
Initially opposing Powell's nomination, Troy Williams, the executive director of the LGBT rights group Equality Utah, eventually said he recognized "the evolution and the journey that Rep. Powell has been on. I sincerely believe you," he said, "and I accept your apology.
Dabakis joined in backing Powell and the committee confirmed him unanimously.
Watch Powell explaining last February why he wanted to implement preferential treatment for opposite sex couples in adoption of children from foster care.
(Dabakis image via Wikipedia)