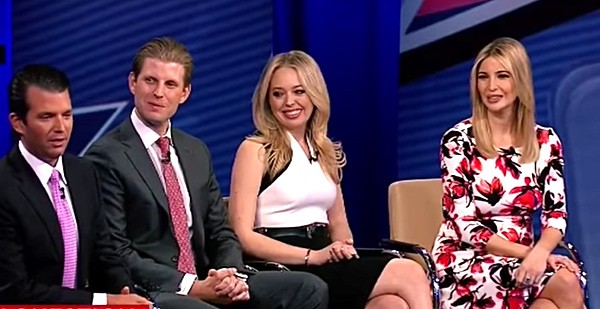 Donald Trump would like top-secret security clearances for his kids, according to a CBS report which his transition team denies.
The Trump team has asked the White House to explore the possibility of getting his children the top secret security clearances. Logistically, the children would need to be designated by the current White House as national security advisers to their father to receive top secret clearances. However, once Mr. Trump becomes president, he would be able to put in the request himself.
His children would need to fill out the security questionnaire (SF-86) and go through the requisite background checks.
The move has raised more than a few eyebrows:
Trump has now asked for top secret clearance for his children. We didn't elect his family, we elected him. They need to step back.

— George Takei (@GeorgeTakei) November 15, 2016
On Tuesday morning, Trump's transition team denied the report, according to ABC News:
The Trump transition team has denied reports that the president-elect sought security clearances for his children, according to a team official.
The official said that the children have also not started filling out the necessary paperwork to obtain the clearances.
"That's not something I'm expecting right now," the officials said.
Donald Trump's transition team, by the way, includes three of his kids:
.@Mike_Pence takes over Trump's transition team.

Carson, Christie, Newt, Flynn, Giuliani, Sessions are vice chairs. pic.twitter.com/umvYyB9Xmb

— Sahil Kapur (@sahilkapur) November 11, 2016