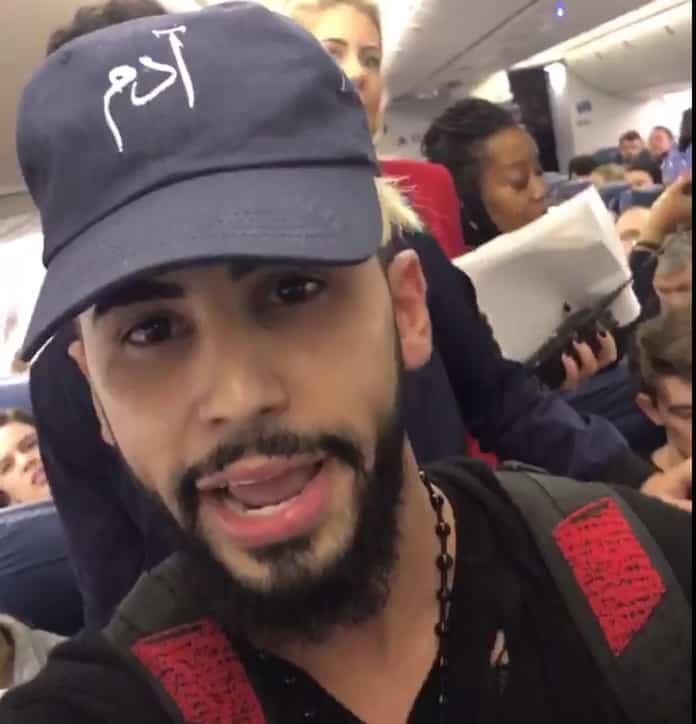 Popular vlogger and YouTube prankster Adam Saleh was kicked off a Delta flight to New York City allegedly for speaking Arabic after a number of people complained that they were uncomfortable, according to CBS News and videos uploaded to Twitter and Periscope by Saleh:
In an interview with CBSN, Saleh said he takes numerous flights every month, and he was upset because something like this never happened before.
"I speak to my mom on the phone every flight," Saleh said. "She only speaks Arabic."
He said when he was speaking to her, a woman in the seat in front of him turned around and told him he ought to speak English. Saleh said he told her he can speak whatever language he likes, and her husband responded by standing up and screaming at him.
Then about 20 people allegedly said they were uncomfortable with Saleh and his Arabic-speaking companion. The pair were approached by the captain, who Saleh said "seemed ashamed and embarassed" when he asked them to leave the plane because of the other passengers' complaints.
Watch Saleh being ejected:
We got kicked out of a @Delta airplane because I spoke Arabic to my mom on the phone and with my friend slim… WTFFFFFFFF please spread pic.twitter.com/P5dQCE0qos

— Adam Saleh (@omgAdamSaleh) December 21, 2016
Shortly after being kicked off Saleh got on Periscope to explain what happened. You can watch that video HERE.
Delta released a statement:
"Two customers were removed from this flight and later rebooked after a disturbance in the cabin resulted in more than 20 customers expressing their discomfort. We're conducting a full review to understand what transpired. We are taking allegations of discrimination very seriously; our culture requires treating others with respect."
Saleh has more than 3.8 million subscribers to his YouTube channels TrueStoryASA and Adam Saleh Vlogs. His social media postings about the incident immediately went viral as you can see from the retweet counts in the post above.
UPDATE. Journalist Soledad O'Brien reports that some passengers are disputing the claim that he called his mom, and says that flight attendants were informed that Saleh was a YouTube prankster.
UPDATE II. Delta's investigation shows that Saleh was trying to be provocative, shouting: "Upon landing the crew was debriefed and multiple passenger statements collected. Based on the information collected to date, it appears the customers who were removed sought to disrupt the cabin with provocative behavior, including shouting. This type of conduct is not welcome on any Delta flight. While one, according to media reports, is a known prankster who was video recorded and encouraged by his traveling companion, what is paramount to Delta is the safety and comfort of our passengers and employees. It is clear these individuals sought to violate that priority."