BLIND TRUST. Democrats seek to force Trump to divest assets: "The legislation previewed by Sens. Elizabeth Warren (D-Mass.), Ben Cardin (D-Md.), Chris Coons (D-Del.), Dick Durbin (D-Ill.) and Jeff Merkley (D-Ore.) also would symbolically deem any Trump violation of federal conflict-of-interest rules "a high crime or misdemeanor under the impeachment clause of the U.S. Constitution," according to a summary released by its sponsors."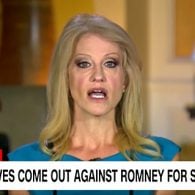 KELLYANNE CONWAY. White House was "irresponsible" for revealing the truth, that Trump knew about Russian hacking: "That is just remarkable. That is breathtaking. I guess he's auditioning to be a political pundit after his job is over soon. That is incredibly disappointing to hear from the podium of the White House press secretary," she said. "Because he basically — he essentially stated that the president-elect had knowledge of this, maybe even fanned the flames. It's incredibly irresponsible and I wonder if his boss, president Obama agrees."
TECH ELITE. Trump meets with Silicon Valley. Thiel, Cook, others…
LINE OF SUCCESSION. Unless Trump picks a diverse Secretary of Agriculture, the line of succession to the presidency would be 12 white guys.
Unless Trump picks a diverse Secretary of Agriculture, the line of succession to the presidency would be 12 white guys — via @maddow pic.twitter.com/0qwFpdWxoa

— Bradd Jaffy (@BraddJaffy) December 14, 2016
PEGASUS. NASA rocket launched from aircraft: "The Pegasus carrying NASA's $157 million Cyclone Global Navigation Satellite System mission, or CYGNSS, which will study the intensification of hurricanes to improve forecasting and tracking, will depart Cape Canaveral Air Force Station's Skid Strip around 7 a.m. attached to the belly of Orbital ATK's L-1011 Stargazer aircraft. The aircraft will fly to an altitude of 39,000 feet, aiming for a drop zone more than 100 miles east of Daytona Beach."
Launch! @OrbitalATK's rocket released from the aircraft and our #CYGNSS hurricane mission is headed to orbit. Watch: https://t.co/KX5g7zfYQe pic.twitter.com/MuydYrsprI

— NASA (@NASA) December 15, 2016
EGYPTAIR. Explosives found on bodies from May crash.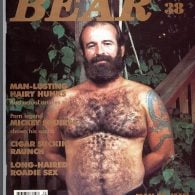 BEAR MAGAZINE. How it changed one man's life: "For homos like myself, BEAR Magazine was much more than a porn rag. It was my first exposure to a subculture that would come to dominate the next decade of my social life. Seeing that cover made me realize that there were other men out there who were attracted to heavyset, hirsute guys like I was. And the magazine itself heralded a new era for a broad demographic of gay men that until then existed mostly in bars and local clubs."
INDIANAPOLIS. Gay bars headed for extinction? "Since 2015 at least five have closed their doors in Indianapolis, about half the city's total. Among the casualties: the venerable Varsity, the city's oldest gay bar, dating back to the 1940s."
PRATT PIT. The actor shows off bruise from Passengers stunt.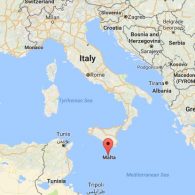 MALTA. Why is has Europe's most progressive gay rights: "Life has changed a lot for gay people in Malta over the past two years," says Russell Sammut, a Maltese citizen who runs gaymalta.com, part of the Allied Rainbow Communities nonprofit organization. "Up until 2014 we had no rights here, but once civil unions were enacted people changed their attitudes overnight. Everyone is afraid of the unknown, but now they've seen there's no threat to society, they're fine with same-sex partnerships."
PARIS IS BURNING. Library of Congress enters film into National Film Registry: "The Registry's mission is is to preserve films that are "culturally, historically or aesthetically" significant, which this year means multiple generations of youth in revolt as well as the usual Old Hollywood masterworks and essential historical documents of early silent filmmaking."
FRUITCAKE FRAPPUCINO. Maybe the grossest Starbucks creation to date.
THIRSTY THURSDAY. Leonard Junior.
https://www.instagram.com/p/2AgvcDQLQm/?taken-by=thehumanlion