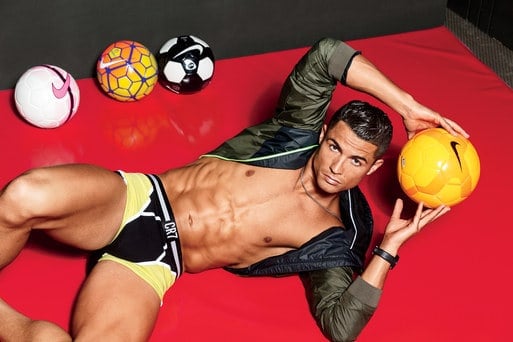 While soccer star Cristiano Ronaldo remains unflappable in the face of homophobic abuse and constant rumors about his sexuality, fans of opposing teams still think it's ok to casually use gay slurs during matches.
Last month, Ronaldo butted heads with Atletico Madrid midfielder Koke after Koke allegedly called him a "faggot." According to The Sun, Ronaldo replied: "A faggot, yes. But a rich one, bastard."
Spanish radio station Cadena Cope claims to have heard the conversation Ronaldo had with team-mates in the visitor's changing room after the game.
Over the weekend, the taunts continued, this time. Metro reports:
"Barcelona could face action after a section of supporters targeted Cristiano Ronaldo with a homophobic chant during El Clasico.
"Not for the first time this season, the Real Madrid forward was subjected to homophobic slurs as some fans at the Nou Camp sang: 'Cristiano come out of the closet'.
"The chants were drowned out by whistles of fellow home supporters during the 1-1 draw.
"It is possible La Liga will take action over the incident."
Watch highlights and English-language commentary from the most recent match between Real Madrid and Barcelona, below.
https://www.youtube.com/watch?v=OGmlyT7IWAE