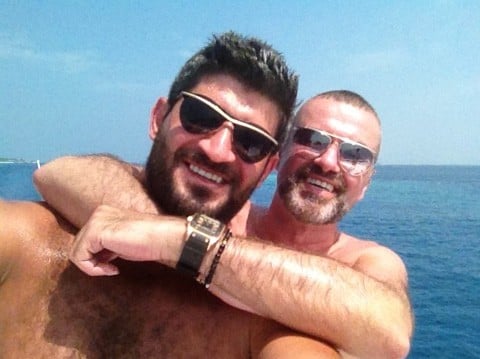 George Michael's boyfriend Fadi Fawaz (pictured above with Michael on a 2012 vacation in The Maldives), spoke with the Telegraph about finding the singer's body on Christmas Day:
"We were supposed to be going for Christmas lunch. I went round there to wake him up and he was just gone, lying peacefully in bed. We don't know what happened yet. Everything had been very complicated recently, but George was looking forward to Christmas, and so was I. Now everything is ruined. I want people to remember him the way he was – he was a beautiful person."
He also tweeted:
ITs a xmas i will never forget finding your partner dead peacefully in bed first thing in the morning.. I will never stop missing you xx

— Fadi Fawaz (@fadifawaz) December 26, 2016
It was reported yesterday that Michael was a major behind-the-scenes donor and gave millions to charities:
The man with the reputation for self-indulgence had actually given millions of dollars to charities involved with helping children, cancer victims and people with AIDS.
He was also remembered for small acts of kindness: helping his village in north London get a Christmas tree and volunteering at a homeless shelter.
…Among the groups he supported were the Terrence Higgins Trust, which helps people with AIDS, Macmillan Cancer Support, and Childline, which offers confidential phone counselling for young people.