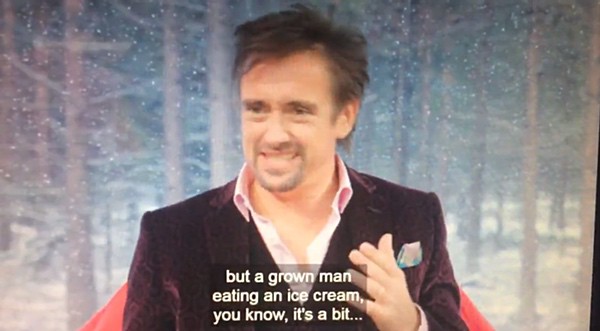 British TV presenter Richard Hammond, who co-hosts the Amazon Prime automotive series The Grand Tour with Jeremy Clarkson and James May, is making headlines for remarks he made on the show suggesting that if you eat ice cream, you're gay, and not really a man.
The remarks came as Clarkson showed off the interior of a Rolls-Royce and said, "The only problem is that in one of those, you couldn't enjoy a chocolate Magnum ice-cream."
Replied Hammond: "It's all right, I don't eat ice-cream. It's something to do with being straight."
Clarkson was taken aback that the audience applauded Hammond's remarks.
"Are you saying everyone who likes ice cream is….?", Clarkson asked.
Replied Hammond: "Ice cream is a bit, you know…but a grown man eating an ice cream, you know, it's a bit….it's that way rather than that way."
"You're saying all children are homosexual?" responded Clarkson.
Watch:
🤗 hello & here's the full richard hammond 'ice creams are gay' piece and yeah, it's awful pic.twitter.com/JhDisRsc1Q

— ollie cole (@ProducerOllie) December 26, 2016
And Twitter is going to town:
Richard Hammond's worst nightmare. pic.twitter.com/nx4pO9cW7I

— Chris Hewitt (@ChrisHewitt) December 27, 2016
Richard Hammond gags while explaining 'men who eat ice-cream are gay' on The Grand Tour, ep 6.
Are men that watch this show bigoted weasels? pic.twitter.com/G4W9ziqLch

— Hayden Scott-Baron ✨ (@docky) December 26, 2016
Here's a photograph of Richard Hammond cruising around for gay men to service. pic.twitter.com/zWlnyD9nLm

— Franklinstein 🎃 (@ShartiTheClown) December 27, 2016
I've found the moment Richard Hammond decided ice cream was gay. pic.twitter.com/vWUJuqEmKf

— Michael M (@michaelmphysics) December 27, 2016
Richard Hammond: Ice cream is gay.
Joe Biden: pic.twitter.com/ua19Gn3xy7

— Tits McGee (@Scientits) December 26, 2016