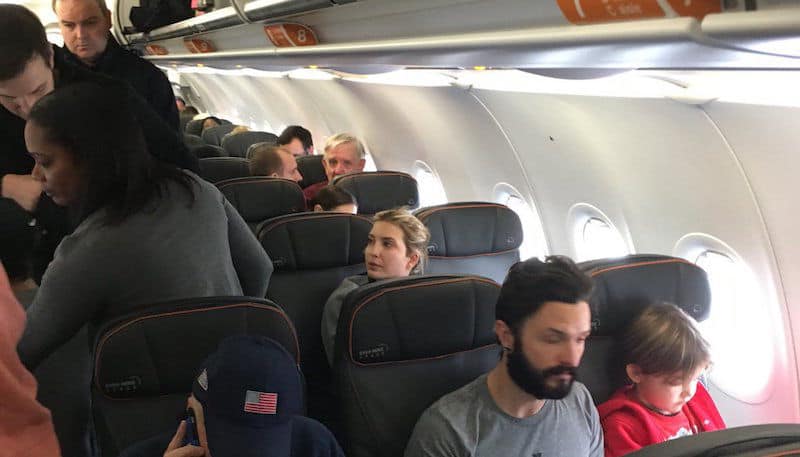 A gay man and his husband were kicked off a JetBlue flight at JFK for verbally confronting Ivanka Trump (she was flying with husband Jared Kushner, their cousins, and their three kids), Heatstreet reports:
According to TMZ, Ivanka had already boarded the plane and settled in when a man, carrying his own child, approached her and her family and began screaming.
"Your father is ruining the country," he yelled while Ivanka attempted to distract her children. "Why is she on our flight. She should be flying private."
JetBlue personnel reportedly escorted the man off the flight while he was still yelling. Asking them, "You're kicking me off for expressing my opinion?!!"
Ivanka and family were unharmed, but Tweets from the man's partner indicate that he intended to accost the family and disrupt their flight as a political protest.
The man had reportedly seen the Trump family earlier in the airport, according to his husband Matthew Lasner, who tweeted (in a tweet since deleted), "My husband chasing them down to harass them."
Another man on the flight, Marc Scheff, who is pictured in a photo tweeted (and since deleted) by Lasner (above), told his side of the story on Facebook. He said he would have made the same call JetBlue did, and eject the couple from the flight:
JetBlue released a statement:
"The decision to remove a customer from a flight is not taken lightly. If the crew determines that a customer is causing conflict on the aircraft, the customer will be asked to deplane, especially if the crew feels the situation runs the risk of escalation during flight. Our team worked to re-accommodate the party on the next available flight."
(main photo via twitter)