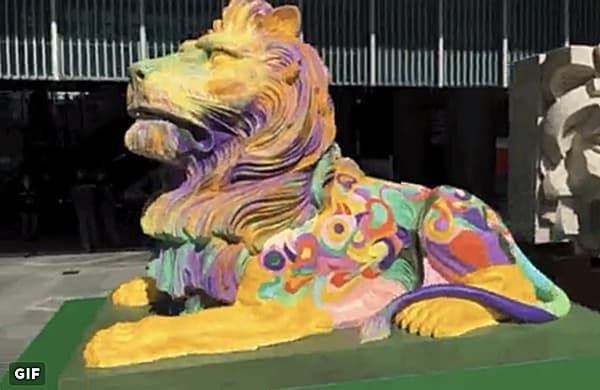 Banking and financial services group HSBC replaced a pair of iconic lions outside its Hong Kong office with replicas painted in rainbow colors in support of the LGBTQ community, and anti-gay bigots are pissed, AFP reports:
…the lions have sparked a backlash from conservative sections of Hong Kong society with some groups launching a joint petition against the artworks, calling them "disgusting"
The petition has been organised by Roger Wong, an outspoken figure against gay rights and the father of Joshua Wong, who famously led the pro-democracy Umbrella Movement in 2014.
It says that the statues are "causing annoyance to the feelings of many Hong Kong people as well as trampling on the existing family values".
The petition adds that the rainbow colours, symbolic of the LGBT community, are emasculating and deprive "all the strength and stamina of the original lions".
Most people love the statues according to reports, part of a larger "Celebrate Pride, Celebrate Unity" campaign by the bank to support the LGBTQ community.
more than 4,100 Facebook users showed their approval by pressing the "like" button under a picture of the lions the bank uploaded to its page.
The statues were painted by artist Michael Lam and will stay through December.
We are proud to unveil our new lion 🦁 installation in #HK in support of #LGBTQ community #HSBCpride 🌈 pic.twitter.com/orcLgNgcsA

— HSBC (@HSBC) November 30, 2016