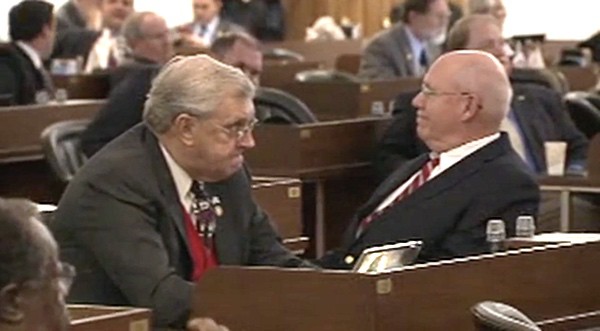 North Carolina Republicans filed a bill to repeal HB2 after many hours of closed door caucuses today. If it's any surprise, they didn't hold up their end of the bargain.
The bill they've filed (SB4) does repeal HB2, including its restrictions mandating what bathrooms transgender people may use. However, it also creates a "Six-Month Cooling-Off Period," in which no municipality in the state may pass any laws related to employment or public accommodations, specifically noting "access to restrooms, showers, or changing facilities."
The Charlotte City Council had agreed to a dark bargain this week, in which they repealed their LGBT nondiscrimination protections ordinance in exchange for state lawmakers repealing HB2. Governor-elect Roy Cooper brokered this agreement, proclaiming that the legislature would "repeal HB2 in full."
It's possible members of the Council assumed that they could repass their LGBT protections as soon as lawmakers held up their end of the bargain. But now, they will have to wait six months before they can act.
Incoming Governor Roy Cooper is now telling Democrats not to support the bill, and Republicans are attacking back, accusing Cooper of political manipulation.
Dallas Woodhouse, the Executive Director of the North Carolina Republican Party, released a statement on Facebook:
The National Center for Transgender Equality is pissed:
NCTE Executive Director Mara Keisling said:
The North Carolina General Assembly is a national disgrace.
In March, North Carolina lawmakers passed HB2. Last week, they made a shocking move to wrest power from Governor-elect Roy Cooper before he even took office. Today, they claimed they would repeal HB 2. As we have come to expect from these dishonest and underhanded extremist lawmakers, however, they are not repealing it in full. The repeal bill includes a portion that bans cities in North Carolina from passing their own nondiscrimination laws for six months.
This is unacceptable. The legislature's actions today have proven that the people of North Carolina—particularly transgender North Carolinians—cannot have any faith in their shameless lawmakers.
We continue to stand with the people of North Carolina, particularly the transgender people who have been harmed by HB2 and their own lawmakers' actions, and we will continue to fight shoulder-to-shoulder with them until this shameful legislation is repealed in its entirety.
Don't be fooled: this is not full repeal of #HB2, doubles-down on discrimination, and makes clear that NC is still closed for business. https://t.co/mNBKSL7Y9a

— Chad Griffin (@ChadHGriffin) December 21, 2016
If 6-month moratorium becomes law, #LGBT North Carolinians wake up tmrow under same discriminatory regime of #HB2. #RepealHB2 in full #NCGA.

— ACLU of North Carolina (@ACLU_NC) December 21, 2016
UPDATE: Zack Ford at Think Progress adds that the House adjourned at 5:30 without passing anything:
After recessing much of the afternoon, it seems lawmakers might be abandoning any attempt to pass anything. It seems that without the support of Democrats, there were not enough Republican votes to actually pass the repeal bill that includes a "cooling off period." If that holds true into the evening, the NC GOP will have not only failed to pass a shoddy HB2 repeal bill; they will have failed to pass any repeal bill at all…
…At 6:20 p.m., the Senate approved an amendment to the repeal bill extending the six-month moratorium on local protections until the end of the 2017 legislative session. In other words, the deal got worse, because North Carolina Republicans refuse to vote for a bill that will still allow cities to protect LGBT people from discrimination.
UPDATE II: The ACLU and Lambda Legal condemned lawmakers:
"The General Assembly and Governor McCrory are playing political chicken, and North Carolinians continue to lose for it. It is an outrage that North Carolina's lawmakers could not follow the mandate of the voters and repeal H.B. 2," said Simone Bell, Southern Regional Director at Lambda Legal. As long as H.B. 2 is on the books, thousands of LGBT people who call North Carolina home, especially transgender people, are being discriminated against and will never feel safe. This was a counterproductive exercise in reaffirming to the rest of the country that North Carolina wants to remain mired in this divisive dispute.
"It is a shame that North Carolina's General Assembly is refusing to clean up the mess they made. The support for the LGBT community from political leaders, faith leaders, businesses, and everyday people that has emerged this year will not fade. These attempts to expel transgender people from public life will not be tolerated," said James Esseks, director of the American Civil Liberties Union's LGBT & HIV Project. "The legislature may not be willing to undo their unconstitutional overreach and respect the rights of LGBT people, so we'll just have to see them in court."
More as it develops…