Set in Provincetown, Massachusetts, and based on the experience of its writer-director Brandon Cordeiro, Ribbons tells the powerful story of a second-generation Portuguese kid whose first connection to the AIDS crisis came when his mother brought him to a memorial service at the beach for those who had been lost.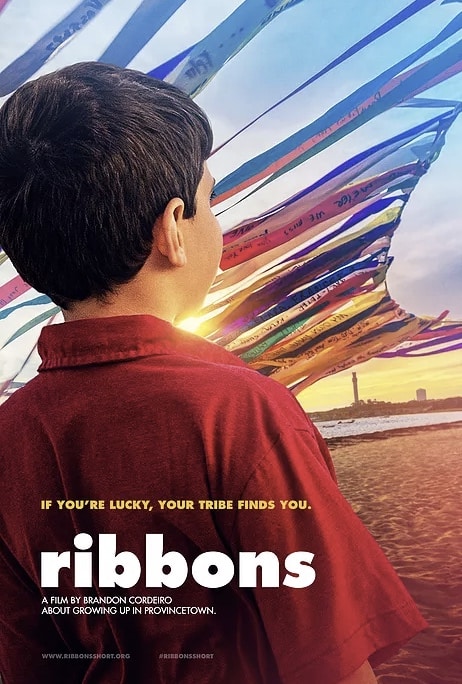 The experience left an indelible impression on Cordeiro, who chose to make it the subject of his first film, and he's sharing it online in full for the first time today, World AIDS Day, for Towleroad readers. It's a poignant elegy offering a message of hope that bridges generational divides.
We hope you'll take some time to watch the film (enlarge it to fit your screen) and share this post with others.
The strands of ribbons depicted in the film still exist today, and have become part of an all-too-large tribute to those we've lost and a reminder that there is still work to do in the battle against HIV/AIDS. They are displayed together each September at Provincetown's Swim 4 Life charity event, where they line the deck of the Boatslip, a resort that hosts a popular tea dance during the summer season.
Cordeiro shared some thoughts with Towleroad about the film, which he is currently developing into a full-length feature (you can help, see below), and the reception it has received.
Says Cordeiro: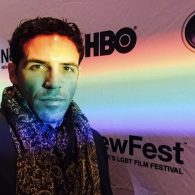 Sharing RIBBONS with the world has been a beautiful gift and continues to bring opportunities that I would never have imagined. Highlights include screenings with LGBTQ Youth at the Harvey Milk High School in NYC to inspire the next wave of artists, supporting group therapy sessions for South American women, both cis and trans, that have been victims of physical and verbal abuse, and meeting such incredibly diverse audiences at international film festivals. If someone would have told me a year ago that these global connections would be possible, I simply would not have believed it!
RIBBONS is a very personal story for me, but represents only the beginning of the journey. I am currently adapting the short film into a feature-length screenplay. Two key collaborators have come on board, Producer Chris Panizzon (Shelter, Pedro, Political Animals) and a long time friend/co-writer, David Epstein (Optioned with Rene Bastian, Coronado). Our goal is to encourage discussion about differences and to keep communication about our LGBTQ history open and alive, especially as it pertains to HIV/AIDS.
Born and raised in Provincetown, MA, I was fortunate to be surrounded by a diverse and inclusive LGBTQ community, people like me, and learned about our struggles and accomplishments in a unique way. Many lack this exposure and support, but LGBTQ visibility saves lives. It is imperative that we continue to tell stories with LGBTQ protagonists and tribute the many untold stories within our community.
The entire cast and crew, except for three people, are local Provincetown residents.  Many local businesses donated services to make the screening happen.  The production of the film was supported and endorsed by Broadway Cares/Equity Fights AIDS, Provincetown Community Compact and the AIDS Support Group of Cape Cod.
Ribbons is having some upcoming screenings. It's screening today at its Caribbean premiere in the Dominican Republic at Out Fest Santo Domingo and in Provincetown, Massachusetts for the AIDS Support Group of Cape Cod. The L.A. premiere will happen March 2017 and 2017 screenings are planned in 2017 in Barcelona and Valencia, Spain, and in the Canary Islands.
You can visit the film's site HERE and follow them on Twitter @RIBBONSshort.
Towleroad readers might recognize Cordeiro as the host of our recent video series sponsored by Lexus. He also just shot a role in the upcoming Super Troopers 2 starring Rob Lowe, Linda Carter, Will Sasso and the Broken Lizard Comedy Troupe. He was also in the year long National Broadway Tour of Camelot.
If you are interested in contributing to the making of the feature length version of this film or in screening RIBBONS – please email: RIBBONSshort@gmail.com or visit www.RIBBONSshort.org