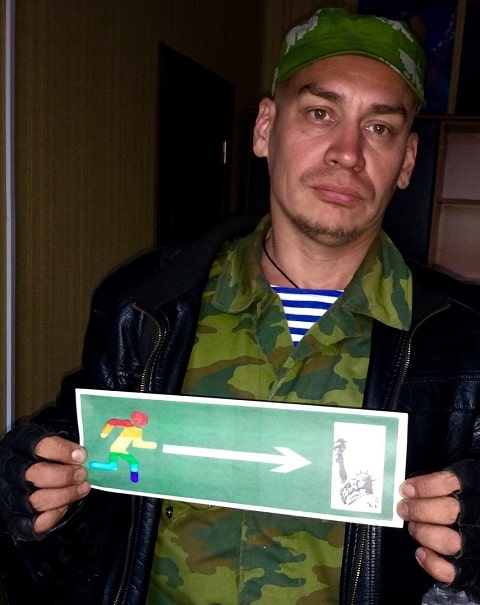 A teacher in Siberia, Russia claims she was forced to resign from her job after she was accused of "supporting LGBT sexual deviants and promoting homosexuality".
21-year-old music teacher Maria Shestopalova said she quit her job after a self-styled Russian campaigner for morality in schools presented her employers with a dossier. Timur Bulatov (above) also posted a series of allegations on social media site vKontakte stating that Shestopalova "clearly does not meet the standards of her profession and can harm her pupils."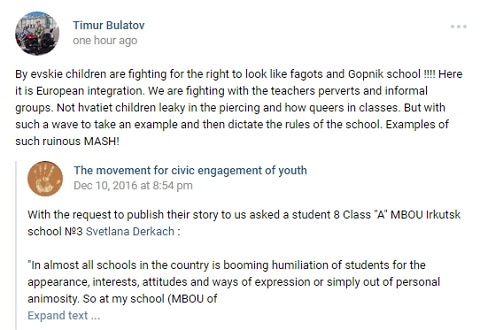 The BBC reports:
Ms Shestopalova, 21, told the BBC she had been summoned by the heads of Krasnoyarsk Further Education Centre No 4 immediately after Mr Bulatov's denunciation of her.
"Without understanding the situation properly the director rang me on Monday evening and said, very unpleasantly, that she was expecting me in her office at 9:00am on Tuesday, and advised me to tender my resignation," she said via vKontakte.
She said they spent six hours questioning her and applying pressure by citing the reputation of the school, the other teachers and her parents.
She resigned after that, she said.
"Evidently they had no desire to establish who was right and who was wrong. Having decided that this solution would be easier for them they pressurised me, to make me quit."
Shestopalova added that the school immediately sent a letter informing Bulatov that she had resigned.
However, in an interview with Meduza, school director Olga Etsel denied Shestopalova's allegation about psychological pressure. She also said the meeting lasted 90 minutes, not six hours.
According to reports, the interior ministry is now thought to be investigating Shestopalova.
(Image via VK.com)