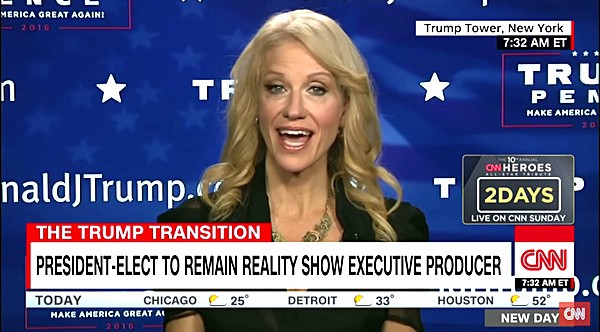 Yesterday, Variety reported that Donald Trump would remain Executive Producer of the NBC reality TV series Celebrity Apprentice while serving as President of the United States.
MGM confirmed to Variety that Trump has retained his EP credit on the series. The president-elect's status on the 15th season of the reality series that made him a household name has been a question since Trump launched his presidential campaign in June 2015. In the credit sequence, Trump's name will air after that of "Apprentice" creator Mark Burnett and before Schwarzenegger, who is also an exec producer of the new incarnation along with Page Feldman and Eric Van Wagenen.
The larger issue for MGM, NBC, and the White House is the payment that Trump will receive for the series. It's unclear what his per-episode fee is, but it is likely to be in the low five-figures, at minimum. NBC has ordered eight episodes of "The New Celebrity Apprentice." Trump's fees will be paid through MGM, the production entity on the show, not NBC. MGM declined to comment on the financial terms of Trump's deal.
On CNN's New Day on Friday, Trump aide Kellyanne Conway defended Trump's decision, saying, "Presidents have a right to do things in their spare time."
She added:
"He's a very transparent guy. Everyone can see what he's doing, and the fact is that he is conferring with all types of experts who tell him what he can do and not do as president of the United States. If this is one of the approved activities, then perhaps he will consider staying on."
When questioned if Trump's time wouldn't be better spent working on jobs and national security for the American people, Conway replied:
"Were we so concerned about the hours and hours and hours spent on the golf course of the current president?"
Alisyn Camerota responded: "I heard you object to Mr. Obama playing golf. Will Mr. Trump not be playing golf for the next four years?"
Watch: