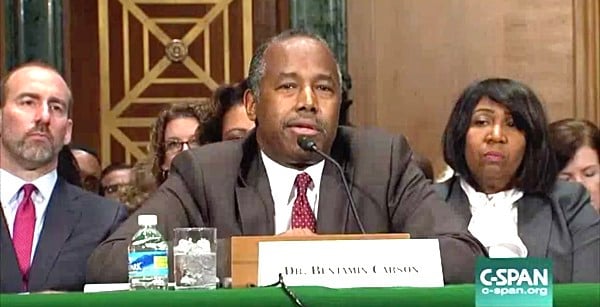 Ben Carson, Trump's nominee for Secretary of Housing and Urban Development, was asked for his thoughts on LGBTQ housing rights at a Senate confirmation hearing today.
When asked by Senator Sherrod Brown (D-OH) whether LGBTQ people deserve the same rights and access to housing opportunities as everyone else, Carson used rhetoric he has used in the past, at CPAC, with regard to marriage.
At CPAC, Carson said, "Of course gay people should have the same rights as everyone else. But they don't get extra rights, they don't get to redefine marriage."
To Carson, marriage equality for LGBTQ is "extra rights" so that tells you a lot about his answer today.
Our transcript:
BROWN:I want to hear your views on the housing rights of LGBTQ people. These people also face discrimination as you know and alarmingly high rates of youth homelessness and bullying. Your statement mentions your desire to improve the lives of all families and communities 'no matter their race, creed, color or orientation' yet you have in the past raised questions about whether LGBTQ people should enjoy the same rights as everyone else. Do you believe that HUD has a duty to take actions and promote equal access to housing opportunities for LGBTQ people.
CARSON: Of course, I would enforce all the laws of the land. And I believe that all Americans regardless of the things that you mentioned should be protected by the law. What I have mentioned in the past is the fact that no one gets 'extra rights'. 'Extra rights' means that you get to redefine everything for everybody else. That to me doesn't seem to be very democratic.
Watch: