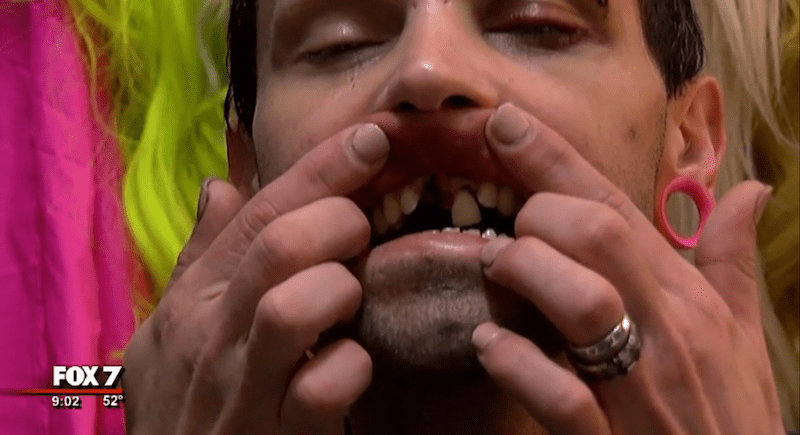 Three gay men were attacked in two separate incidents outside nightclubs in Austin last week, in what one of the victims believes may be a pattern of anti-LGBT violence.
Robert Foster and a friend, both drag performers, suffered serious injuries early Wednesday when they were jumped after leaving a show during "Tuesgayz" — a popular gay-themed night at the downtown club Barbarella.
Foster said their attacker snatched his purse and punched him in the face, knocking out a tooth and nearly tearing his septum. The assailant then jumped in a vehicle whose driver proceeded to run over Foster's friend, breaking his leg.
"What comes to mind is that this is like a pattern. This needs to be stopped," Foster told KTBC-TV. "If it is a pattern we need better security around the bars and the clubs people need to know just because it hasn't happened to you yet, it can."
On social media, some linked the Austin attacks to anti-LGBT rhetoric from state Republican leaders including Lt. Gov. Dan Patrick and Attorney General Ken Paxton. Last year, Dallas experienced a horrific anti-LGBT crime wave that included dozens of attacks on gay men leaving bars late at night.
In the other Austin incident, Oscar Zavaleta said he was beaten by two men outside Bout Time II, a gay bar in North Austin. Zavaleta suffered a broken nose and a black eye, and the attackers took his cell phone and wallet.
"I felt someone strike me from behind. Someone hit me. After that both of the gentleman took turns punching me." Zavaleta said. "It really hurts because the fact is I could be dead."
Foster's fiance has launched a fundraising page to cover his medical expenses, and Bout Time II plans a benefit show for the victims this week.
"I do have some scarring but bones can be mended but the fact that my community has made me feel so blessed makes me feel like people care," Foster told KTBC.
"I'm not gonna be bullied or victimized or nobody's gonna stop me from doing what I want to do I'll just be a lot more cautious," he told KXAN-TV. "Be safe, you know, take care of each other, travel in packs and know your surroundings."
Police have made no arrests.
Watch the reports below.