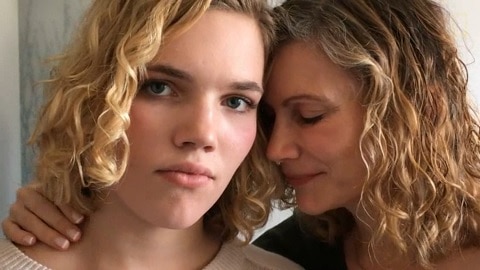 Trans teen Emmie Smith (above, with mom Kate) allowed National Geographic to film an intimate and moving video diary of her gender reassignment surgery process.
17-year-old Emmie invited National Geographic photographer Lynn Johnson as she underwent surgery in order to "demystify the procedure by documenting it, close-up and unflinching."
Emmie came out on Facebook 18 months before the surgery, a process she had not previously considered.
Emmie's family, including identical twin Caleb and mother Kate, an Episcopal reverend, were entirely supportive of Emmie.
Following the surgery, Emmie said she did not feel any immediate relief. It wasn't until months later she knew she'd made the right choice. "If you're not living freely that's time wasted, and I felt my time was wasted pretending to be a boy," she says. "It was the best decision in my life."
National Geographic reports:
Her mother, Reverend Kate Malin, is a prominent figure in their Massachusetts town, and her identical twin sons Caleb and Walker were familiar fixtures at her Episcopal church. A month after Walker came out as Emmie, Malin stepped out from behind her pulpit and walked into the aisle. Halfway through her sermon she decided it was time to address the change in her family.
"As most of you know, Bruce and I have three children," she began. "Caleb and Walker, who are 17, and 13-year-old Owen. Walker's new name is Emerson, and she prefers Emmie or Em. She's wearing feminine clothing and makeup and will likely continue to move in the direction of a more feminized body."
Kate nervously revealed her struggle to the attentive New England crowd. "I feel broken much of the time," she confessed. "I've wanted to run away, and I've prayed for this child that I would gladly die for, guilty for how much I miss the person I thought was Walker and everything I thought might be."
After the sermon, the congregation engulfed her in a hug. Then they moved to offer words of support to the sandy-haired 17-year-old sitting in the pews. In the first of many awkward mistakes the family would later laugh about, it was Caleb—Emmie's identical twin.
Watch the National Geographic video below (graphic):