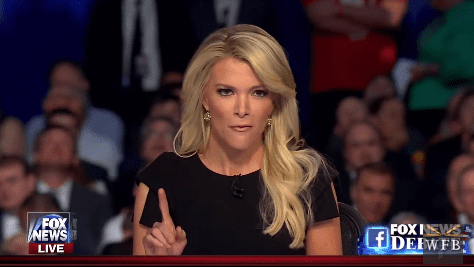 Megyn Kelly is leaving FOX News after 12 years and headed to NBC News, the NYT reports:
The NBC News chairman, Andrew Lack, wooed Ms. Kelly away from Fox News by offering her a triple role in which she will host her own daytime news and discussion program, anchor an in-depth Sunday night news show and take regular part in the network's special political programming and other big-event coverage.
The move will herald a seismic shift in the cable news landscape, where Ms. Kelly had become the second-most watched host — after Bill O'Reilly of Fox News — and often helped define the national political debate, especially over the last year as Donald J. Trump regularly attacked her, at times in viciously personal terms.
An announcement from NBC News is said to be "imminent"…
UPDATE: Megyn Kelly has announced.
Wrote Kelly on social media:
Over a dozen years ago I started at Fox News in a job that would change my life. Now, I have decided to end my time at FNC, incredibly enriched for the experiences I've had. I have agreed to join NBC News, where I will be launching a new daytime show Monday through Friday, along with a Sunday evening news magazine program. I will also participate in NBC's breaking news coverage and its political and special events coverage.
While I will greatly miss my colleagues at Fox, I am delighted to be joining the NBC News family and taking on a new challenge. I remain deeply grateful to Fox News, to Rupert, Lachlan and James Murdoch, and especially to all of the FNC viewers, who have taught me so much about what really matters. More to come soon.
Happy New Year, and God bless.
An ending, and a new beginning… pic.twitter.com/clyKaDpQTW

— Megyn Kelly (@megynkelly) January 3, 2017