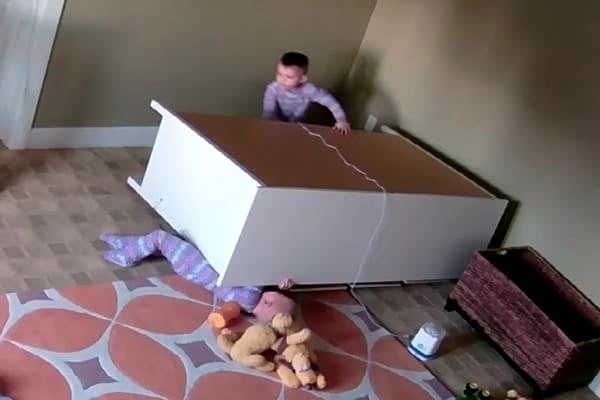 Ricky Shoff posted nannycam footage of his 2-year-old twin sons to Facebook in an effort to demonstrate the dangers of unsecured furniture to children, but the gripping footage has quickly gone viral.
I've been a little hesitant to post this. But I feel it's not only to bring awareness, but it is also incredible. We are so grateful for the bond that these twin brothers share. We know Bowdy was not alone in moving the dresser off of Brock. And feel blessed that he is ok. Please make sure all your dressers are bolted and secured to the wall. Please share.
Watch:
In an interview with NBC, Kayli joined her husband in underscoring the importance of bolting furniture to the wall to avoid kids getting hurt:
She also said that one of the most shocking things about the entire incident was that neither she nor her husband heard a crash. When they checked their nanny cam, both boys were playing next to the toppled dresser.
The goal in making the video public, she said, was raising awareness and "hoping that it doesn't happen to other families."