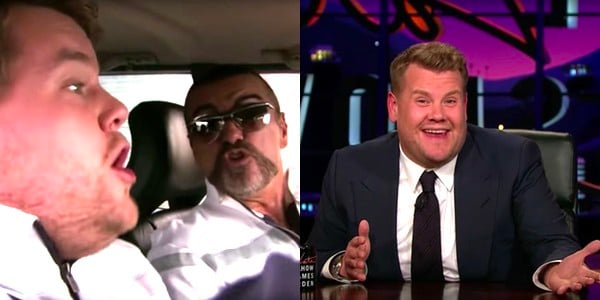 James Corden took a moment on his return to The Late Late Show to comment on the death of George Michael, who inspired Corden's 'Carpool Karaoke' series, appearing in the first one for Comic Relief's Red Nose Day back in 2011.
"I feel like I've loved George Michael as long as I've kind of loved music in a way, and I know so many of his fans feel the same. I can remember so many specific times in my life where I might have felt on my own, and George's music would feel like you would listen to a song and he would reach his hand out and tell you that you weren't on your own, and that these feelings were not particular to you. It really hit me."
Corden explained how the idea for Carpool Karaoke came about, and how the clip of he and George persuaded Mariah Carey to agree to do the segment, and it snowballed from there.
Watch: