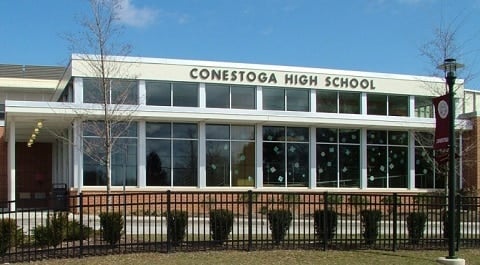 Three Philadelphia high school football players who early last year were accused of sexually assaulting a freshman teammate with a broom have pleaded guilty to menacing.
The assault took place in October 2015 at Conestoga High School in Pennsylvania as part of a hazing ritual known as "No Gay Thursdays."
The 14-year-old victim was reportedly targeted because he was seen as cocky by his teammates – he was on the varsity team even though he was only a freshman. He has since left the school.
Last year, Philly.com reported:
During what members of the Conestoga High School team called a "No-Gay Thursday," two of the players held down a freshman while a third penetrated the victim's rectum with a broom handle, said District Attorney Tom Hogan.
"That's over 400 pounds of senior holding down this freshman," Hogan said, adding that the victim was 5-foot-7 and weighed about 160 pounds. Hogan said he was targeted because the three, all seniors, and one of them a team captain, took a dislike to him.
He said the three weren't charged with sexual assault because under state law that would have required sexual intercourse. "From our perspective, it's a physical assault and not a sex crime," he said.
Hogan said that "No Gay Thursdays" was a tradition in which behavior the team normally considered to be "gay" was considered "not gay" on Thursdays.
However a joint statement issued yesterday by Hogan and attorneys for the three Conestoga High School seniors states that the victim did not suffer any physical injury when the players "briefly poked the victim with a broomstick in the leg" and makes no mention of the sodomy claim.
Conestoga Football Hazing by Adam Farence on Scribd
The Herald-Whig reports that the victim, the DA and the seniors "are in full agreement with this disposition." The statement doesn't say how the three seniors were punished. Because this case is a juvenile matter, all the records are sealed and no further comments will be made.
Head football coach John Vogan was initially suspended and then resigned following the attack. The varsity and junior varsity staff members were relieved of their duties through the football season.