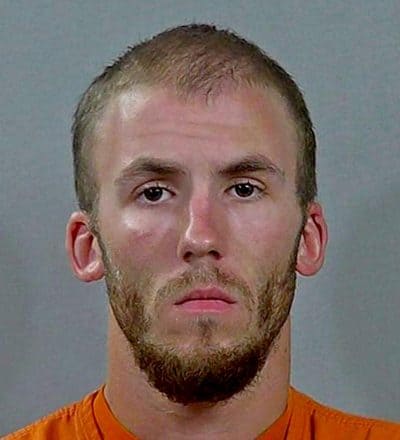 An Idaho man pleaded guilty Monday to first-degree murder in the homicide of a gay man authorities say he lured to his death in Lake Lowell. He has additionally been charged with a federal hate crime, to which he pleaded not guilty on Tuesday.
Idaho tellingly does not offer additional protections to LGBT victims, necessitating federal involvement in the case.
Kelly Schneider, 23, of Nampa, took a plea deal in which further charges of robbery, grand theft and conspiracy of robbery were dropped. The victim, Steven Nelson, 49, also of Nampa, clung to life long enough to describe his attackers to authorities after being robbed and beaten on April 29 of last year. Three other men were charged in connection with the reprehensible crime.
According to prosecutors, an online escort ad on Backpage.com was used by Schneider in order to entrap Nelson in the remote area of Gott's Point. After the grievous assault during which Schneider has confessed to brutally kicking him repeatedly, Nelson was left for dead. Jayson Woods, 28; Kevin R. Tracy, 21; and Daniel Henkel, 23 await their trial, also on first-degree murder charges as well as robbery.
The lurid tale of the men's participation in the crime is as follows:
Nelson met Schneider at a Walmart in Nampa, then drove with him to Gott's Point near Lake Lowell. Henkel and Tracy were hiding there as "back-up," Tracy described, in case Nelson was armed or was going to harm Schneider.
The first time Schneider met with Nelson, Schneider grabbed $40 Nelson offered him in the Walmart parking lot then fled back to the car Woods was driving. No sexual services were exchanged.
Later, according to Tracy, Woods told Schneider to "go make things right" by meeting Nelson again and doing the favors Schneider said he would do. At first, Schneider refused, saying he was straight. Schneider eventually arranged to meet again with Nelson. Nelson offered to pay him more money if Schneider would return, according to the testimony.
Woods dropped Schneider at the same Walmart. This time Schneider and Nelson drove to Gott's Point. There, Schneider got Nelson on the ground, shoved his head to the dirt and kicked him repeatedly, calling him a "faggot" and asking Nelson why he thought Schneider would return and perform sexual acts.
Henkel fled immediately because he thought Nelson would recognize him, Tracy said. Schneider was to take Nelson's car and drive Schneider, Henkel and Tracy away.
Schneider now faces life in prison for the murder charge, and potentially another life sentence if convicted of the hate crime, formally known as willful assault based on sexual orientation, resulting in death.