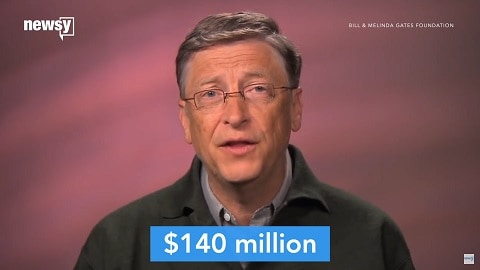 The Bill & Melinda Gates Foundation has pledged up to $140 million to help biotech firm Intarcia Therapeutics develop an HIV prevention device.
The fund will help the Boston-based company to adapt its Medici implant technology program to deliver a steady stream of HIV medication to healthy patients over an extended period of time. The matchstick-sized device doses out medicine from a tiny pump embedded under the patient's skin.
Intarcia gets another $206M and announces a new disease target: HIV https://t.co/B4IhxKQbMx

— Boston Business Journal (@BosBizJournal) January 10, 2017
GeekWire reports:
The Gates Foundation contribution is divided into two parts. The Seattle non-profit behemoth is investing $50 million in Intarcia's latest Series EE round and committing up to $90 million in grants to be awarded as the startup crosses certain milestones.
The anti-HIV prophylactic therapy would be administered to patients once or twice-yearly. Intarcia is also developing a drug delivery system to treat type 2 diabetes, using the Medici technology. The startup plans to begin delivering the diabetes medication to patients next year but development of the anti-HIV prophylactic is expected to take longer.
Intarcia's pump will most likely begin rolling out in the U.S. and other wealthy countries, according to the Wall Street Journal. But the long-term goal is to bring the technology to parts of the developing world, like Sub-Saharan Africa, where HIV is endemic.
In a press release, Intarcia CEO Kurt Graves said the company "is poised to open up a totally new category of important once- or twice-yearly treatment and prevention therapies for some of the world's most serious chronic diseases − including those that disproportionately affect people with some of the greatest unmet needs."
He added that Intarcia is "tremendously excited and humbled to work with an incredible organization as smart, forward-looking and purpose-based as the Bill & Melinda Gates Foundation."
Watch a Newsy report below.