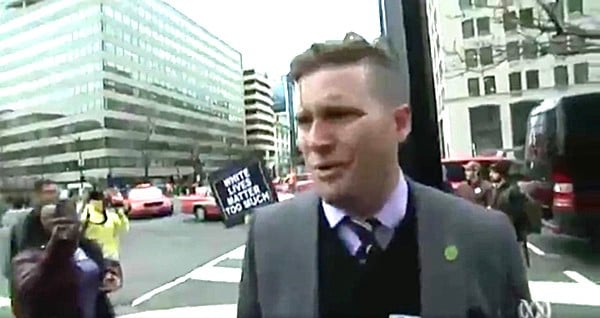 Richard Spencer, who has been leading the resurgence of the white supremacist movement fomented by Trump's campaign, was punched in the face during an interview yesterday in Washington DC in an area where anti-Trump protesters had gathered.
Video posted online by the outlet shows the white supremacist speaking to Washington bureau chief Zoe Daniel when he was interrupted by individuals off camera. Spencer was answering questions on whether he was a neo-Nazi. He said he was not, and was then asked what the "Pepe the Frog" pin he was wearing signified.
"Pepe the Frog" is an internet meme so often used by racists and anti-Semites it was designated a hate symbol by the Anti-Defamation League.
As Spencer was speaking, a masked individual ran up, socked him in the face and fled. Spencer left, later tweeting there was, "no serious damage."
Watch:
https://www.youtube.com/watch?v=9rh1dhur4aI